Senior Care Issues in River Oaks, TX: Not Eating Healthy? Consider Preparing Light Meals that Can Be Frozen and Reheated
When it comes to keeping seniors happy and healthy, nutrition is one of the most important considerations. Maintaining a senior's balanced nutrition not only keeps their body functioning properly, but can also help in addressing certain medical conditions that they may be dealing with. This means that paying attention to how your aging parents are eating will make a major difference and how they feel and their quality of life. This can be a massive undertaking, however. If you aren't available to care for them at all times, you may not be able to really get a good picture of how they are eating. This is why home care can be such a valuable asset to you.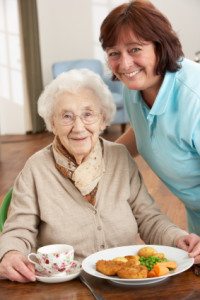 Home care companions know how much you love your parents. That is not the issue. The issue is that you have your own life, and your own responsibilities. You want to make sure that your parents get the absolute best care that they possibly can, but you also need to take care of yourself. You are much likely to ensure that your parents are cared for properly if you have a home care companion spend time with them on a regular basis.
One of the best services that a home care companion can offer to seniors is nutritional support. They are able to help with meal preparation to ensure that your senior's diet is well-balanced and will encourage their health and vitality. Consider asking your home care companion to prepare large amounts of the lights and well-balanced meals that your aging parents enjoy the most and put them in the freezer and individual servings. This will allow your senior to reheat these meals when he is on his own, or make it easier for you or your home care companion to quickly provide a delicious and healthy meal.
A senior may not be able to cook for himself the way that he used to. This doesn't mean, however, that he doesn't still enjoy the same types of food or having the independence of preparing his own meal or snack whenever he is hungry. By having light and healthy versions of his favorite foods prepared and frozen, you can give your aging parent the opportunity to choose what he is going to eat and prepare it for himself when he wants it. This encourages independence and a sense of living a productive and self-directed life.
If you have a loved one who could benefit from the help of senior care services in River Oaks, TX contact the caregivers at At Your Side Home Care. We help seniors and their families with many levels of senior care service. Call (832) 271-1600 for more information.
For most of us, the word "home" evokes warm feelings of comfort, security and well-being. For older adults, home also means holding tight to cherished memories and maintaining self-esteem and independence. When illness, injury or age make life a little more challenging, remaining at home in a comfortable, familiar environment encourages recovery and enhances the quality of life. Home can be defined as a private residence, an independent or assisted living facility or even a short term stay in the hospital, we recognize the additional benefits provided by a personal, professional assistant.

Our Certified Nurse Aides, 24-Hour Live-in Assistants and Home Health Aides are available 24 hours a day, 365 days a year. We also provide the security and confidence of 24-hour Telephone Assistance, so fast, reliable help is always available when it's needed. To learn more about our homecare services see our homecare services page.

Different people need different levels of homecare. To meet the requirements of our clients, At Your Side Homecare maintains consistent staffing levels of caring professionals. Homecare service is available for as little as a few hours a week, or as many as 24 hours a day, seven days a week
Latest posts by Donna Wrabel, LMSW (see all)