Senior Care in The Heights, TX: Portobello "Steaks" for Your Next Cookout
Summer is a time of cookouts, picnics, and other opportunities to get together with your friends and family to enjoy a casual meal. Unfortunately, many of the foods that are traditionally offered at the used gatherings are not necessarily the healthiest of options. Heavy in saturated fat and cholesterol, the meats that are generally served can wreak havoc on anyone's diet, but particularly the restrictive eating plans often recommended for seniors coping with medical concerns. This doesn't mean that you can't enjoy a summer cookout with the same satisfying style of food. With this delicious senior care recipe, you can offer your aging loved one, and every member of your family, a filling, flavorful meal with no animal products and fantastic nutrition.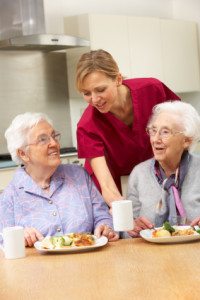 What you will need for this recipe:
Portobello mushroom caps
Butter
Minced garlic
Ground black pepper
Soy sauce
Blue cheese crumbles
Start by cleaning your Portobello mushroom caps. Never run mushrooms under water as this will cause them to become tough and rubbery. Instead, gently wiped the top of the mushroom cap with a wet paper towel and remove the stem. Place the mushroom cap top down on a piece of aluminum foil and dot with butter. Do not use margarine, as it will not melt properly. Add minced garlic according to your taste, pepper, and soy sauce. Wrap the mushroom in the first layer of aluminum foil, then wrap again in another layer. Either bake your mushroom at 375 degrees Fahrenheit for half an hour, or place on the grill and cook until softened and darkened.
Remove your mushroom from the aluminum foil and serve either as is, or tops with blue cheese crumbles. Your "steaks" are delicious served with the same accompaniments as meat. Try your mushrooms with mashed potatoes, a baked potato, or potato salad. Be sure to serve a fresh green salad for added nutrition and a crisp, cool break from the rest of the hot meal. For a twist on this recipe, slice up your cooked mushrooms and serve them in a wrap with fresh greens and light vinaigrette. If your aging loved one is a fan of the all-American hamburger, try placing one of the cooked mushroom caps on a sesame seed hamburger bun and top it with American cheese, lettuce, tomato, onions, mayonnaise, and ketchup.
If your aging loved one has dietary restrictions due to a medical concern such as congestive heart failure or high cholesterol, this recipe may not be appropriate for him due to the soy sauce. Consult with his doctor about modifying the recipe with low-sodium soy sauce or using a seasoning mix that does not contain salt.
If you have a loved one who could benefit from the help of senior care services in The Heights, TX contact the caregivers at At Your Side Home Care. We help seniors and their families with many levels of home care service. Call (832) 271-1600 for more information.
For most of us, the word "home" evokes warm feelings of comfort, security and well-being. For older adults, home also means holding tight to cherished memories and maintaining self-esteem and independence. When illness, injury or age make life a little more challenging, remaining at home in a comfortable, familiar environment encourages recovery and enhances the quality of life. Home can be defined as a private residence, an independent or assisted living facility or even a short term stay in the hospital, we recognize the additional benefits provided by a personal, professional assistant.

Our Certified Nurse Aides, 24-Hour Live-in Assistants and Home Health Aides are available 24 hours a day, 365 days a year. We also provide the security and confidence of 24-hour Telephone Assistance, so fast, reliable help is always available when it's needed. To learn more about our homecare services see our homecare services page.

Different people need different levels of homecare. To meet the requirements of our clients, At Your Side Homecare maintains consistent staffing levels of caring professionals. Homecare service is available for as little as a few hours a week, or as many as 24 hours a day, seven days a week
Latest posts by Donna Wrabel, LMSW (see all)