Spinal Muscular Atrophy in Seniors: Symptoms, Diagnoses, and Treatment
Senior Care in The Heights TX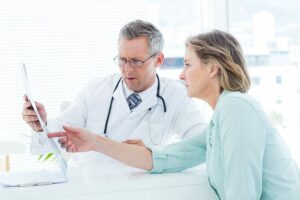 Spinal muscular atrophy is a serious medical condition that is inherited and often found in children and infants, but can also be detected later in life. This condition is defined as causing the muscles to become increasingly weaker, affecting the limb muscles that are associated with motor neuron loss in the spinal cord.
There are four types of spinal muscular atrophy, all of which are inherited from a parent. Someone with this disease will end up losing all control of their muscles, making it challenging to walk, eat, or breathe. Eventually, someone with this condition will need a senior care provider to help with all of the tasks they are unable to do anymore. The best thing you and other family members can do is educate yourself on spinal muscular atrophy.
Types of Spinal Muscular Atrophy
There are four types of this disease that could impact your elderly loved one.
Type I: This type is usually detected at birth or shortly after being born. It is the most acute form of the disease.
Type II: Children between the ages of 6 months and 1 year may develop Type II. These children are unable to stand or walk on their own, requiring additional assistance or a mobility device to help. Yet, they will be able to sit upright.
Type III: This is one of the mildest forms of spinal muscular atrophy and is usually detected in the first few years of the child's life and well into their teen years. They are able to walk and stand on their own; they will have more walking challenges as the get older, requiring the help of a wheelchair.
Type IV: Type IV is the type that develops later in life, usually in their late 30's to their late 50's. The symptoms are less severe than the other types, but will still cause twitching, muscle weakness, and breathing difficulties.
Diagnoses
If you or the elder are aware that spinal muscular atrophy runs in the family, a genetic test can be performed to find out if future children or grandchildren will develop the disease. This test can be performed either prenatally or postnatally. Other ways to get diagnosed for this disease includes:
Electrophysiology testing: This test will show the diminished nerve signals and can also determine if another neuromuscular disorder is behind your loved one's loss of muscle strength.
Muscle biopsy: A biopsy can be conducted to show muscle fiber atrophy and can distinguish other neuromuscular disorders.
Blood tests: A blood test can be used to diagnose the disease, but is usually performed in Type I.
Treatment
Unfortunately, there are no effective treatments available, but can be managed through several experimental treatment options. One of these options is gene therapy. Talk to your loved one's doctor to determine what treatment options are currently available.
Source:
http://patient.info/doctor/spinal-muscular-atrophy-pro
https://www.mda.org/sites/default/files/publications/Facts_SMA_P-181.pdf
If you or an aging loved one are considering senior care in The Heights, TX, please call the caring staff at At Your Side Home Care. We will answer all of your senior care questions. Call today: (832) 271-1600.
For most of us, the word "home" evokes warm feelings of comfort, security and well-being. For older adults, home also means holding tight to cherished memories and maintaining self-esteem and independence. When illness, injury or age make life a little more challenging, remaining at home in a comfortable, familiar environment encourages recovery and enhances the quality of life. Home can be defined as a private residence, an independent or assisted living facility or even a short term stay in the hospital, we recognize the additional benefits provided by a personal, professional assistant.

Our Certified Nurse Aides, 24-Hour Live-in Assistants and Home Health Aides are available 24 hours a day, 365 days a year. We also provide the security and confidence of 24-hour Telephone Assistance, so fast, reliable help is always available when it's needed. To learn more about our homecare services see our homecare services page.

Different people need different levels of homecare. To meet the requirements of our clients, At Your Side Homecare maintains consistent staffing levels of caring professionals. Homecare service is available for as little as a few hours a week, or as many as 24 hours a day, seven days a week
Latest posts by Donna Wrabel, LMSW (see all)