Senior Care in The Heights, TX – 10 Foods for Better Eyesight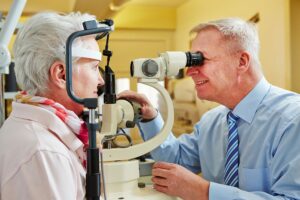 There's an opportunity at every meal to help improve your elderly loved one's eyesight. Nutritious food in general is great for your body, but there are certain foods that are especially important for specific parts of your body, such as the eyes. Eyesight is one thing that can deteriorate with age, and when your parents are getting older, this can be a concern. Thinking about your elderly mother or father's health and eye care now is a great way to prevent future problems and improve the eyesight they currently have. There are a few specific nutrients and vitamins that are good at reducing your risk for macular degeneration and cataracts. Helping your parent eat these foods will help them live happier for the rest of their life with improved vision. Consider getting senior care services for your loved one if they need more help and assistance with meal planning and having a balanced diet for senior health.
Eat These Foods for Better Vision
Each one of these foods is great, but you can also combine them. Look online for recipes that contain two or more of these foods, and you've got an eyesight healing super-meal! If you can prepare these in ways that your parent will enjoy, mealtimes will be both happy and healthy. Here are the 10 best foods for improving senior eyesight:
Broccoli: these green vegetables are great in soups, salads and even with baked potatoes. They have a great combo of vitamin C and lutein.
Nuts: these little nutrition powerhouses are high in omega-3 fatty acids and vitamin E. They are great for snacks or can be added into yogurt or oatmeal.
Spinach: these dark green leaves are superstars in nutrition. Toss them into scrambled eggs, layer them in lasagna, or simply steam and enjoy.
Citrus fruits: the oranges, lemons, grapefruit and limes in this group are rich sources of vitamin C. They can be carried along as a snack or added to water for a tasty hydrating drink.
Bell peppers: these little gems come in many colors and are full of phytonutrients and all kinds of vitamins and minerals good for your eyes.
Avocado: the creamy green vegetable is good mashed or sliced in a sandwich or salad. The vitamin E content is good food for vision.
Carrots: we were all told as children to eat our carrots so we would have strong eyesight. It's still true.
Seafood: this unlikely category is rich in omega-3s and that's what makes it good for promoting healthy eyesight.
Whole grains: these are good for fiber, zinc and selenium. You can serve any of the healthy vegetables in this list over a bowl of brown rice.
Sweet potatoes: these are loaded with beta carotene, which is great for eyesight.
If you have a loved one who could benefit from the help of senior care in The Heights, TX contact the caregivers at At Your Side Home Care. We help seniors and their families with many levels of home care service. Call (832) 271-1600 for more information.
For most of us, the word "home" evokes warm feelings of comfort, security and well-being. For older adults, home also means holding tight to cherished memories and maintaining self-esteem and independence. When illness, injury or age make life a little more challenging, remaining at home in a comfortable, familiar environment encourages recovery and enhances the quality of life. Home can be defined as a private residence, an independent or assisted living facility or even a short term stay in the hospital, we recognize the additional benefits provided by a personal, professional assistant.

Our Certified Nurse Aides, 24-Hour Live-in Assistants and Home Health Aides are available 24 hours a day, 365 days a year. We also provide the security and confidence of 24-hour Telephone Assistance, so fast, reliable help is always available when it's needed. To learn more about our homecare services see our homecare services page.

Different people need different levels of homecare. To meet the requirements of our clients, At Your Side Homecare maintains consistent staffing levels of caring professionals. Homecare service is available for as little as a few hours a week, or as many as 24 hours a day, seven days a week
Latest posts by Donna Wrabel, LMSW (see all)