Senior Care in Spring Valley, TX: September is Chicken Month
Working in senior care services? Need some fun ideas for September? It's chicken month in September, and this is one bird Americans really love to eat. There are so many ways to prepare it, you could eat chicken every day of the month and never eat the same recipe twice.
What are some ideas for chicken recipes?
Chicken enchiladas
Roast chicken
Chicken soup
Barbeque chicken wings
Chicken chili
Chicken casseroles galore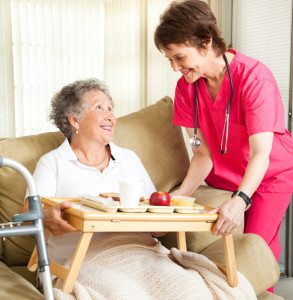 Why choose chicken for a high quality protein?
It's versatile and adapts well to many different recipes and cuisines
It's relatively inexpensive compared to some other meats
Can be very low-fat if you opt for white meat with no skin
Easy to purchase in almost any location
Korean Chicken Thighs
8 chicken thighs, skin on
½ cup soy sauce
½ cup minced green onion
3 tablespoons sesame oil
3 tablespoons honey
2 teaspoons minced garlic or ¼ teaspoon garlic powder
¼ teaspoon ground ginger
¼ teaspoon black pepper
Preheat the oven to 375 degrees.
Place the chicken with the skin side down in a large baking dish.
Combine all the remaining ingredients in a bowl, mix well and then pour on top of the chicken pieces in the dish.
Bake uncovered for 45 minutes.
Turn the chicken over in the dish and continue baking for another 15 minutes.
Quick Vietnamese Chicken Soup
1 ounce cellophane noodles
8 ounces boneless skinless chicken breasts
1 tablespoon peanut oil
2 teaspoons minced garlic
2 teaspoons minced ginger
¼ teaspoon red pepper flakes
28 ounces chicken broth
2 tablespoons fish sauce
2 tablespoons chopped fresh cilantro
2 tablespoons chopped green onions
1 tablespoon chopped fresh basil
Soak the cellophane noodles in very hot tap water.
While the noodles are soaking, cut chicken into thin julienne strips.
Heat oil in a deep skillet over a medium-high heat; add chicken, garlic, ginger and pepper flakes.
Cook, stirring for 1 minute; add broth and fish sauce and bring to a boil.
Reduce heat to medium and simmer until the chicken is done, about 8 minutes.
Drain noodles and cut them into short pieces with a pair of scissors (about 1 – 1 ½ inches long.)
Arrange noodles in bottom of bowls; ladle soup over the top and sprinkle with cilantro, onion, and basil.
Serve with Vietnamese hot sauce or chili paste, if desired.
This lovely warm soup is ready to eat in only 15 minutes, and tastes like you have cooked all day!
If you have a loved one who could benefit from the help of senior care services in Spring Valley, TX contact the caregivers at At Your Side Home Care. We help seniors and their families with many levels of home care service. Call (832) 271-1600 for more information.
For most of us, the word "home" evokes warm feelings of comfort, security and well-being. For older adults, home also means holding tight to cherished memories and maintaining self-esteem and independence. When illness, injury or age make life a little more challenging, remaining at home in a comfortable, familiar environment encourages recovery and enhances the quality of life. Home can be defined as a private residence, an independent or assisted living facility or even a short term stay in the hospital, we recognize the additional benefits provided by a personal, professional assistant.

Our Certified Nurse Aides, 24-Hour Live-in Assistants and Home Health Aides are available 24 hours a day, 365 days a year. We also provide the security and confidence of 24-hour Telephone Assistance, so fast, reliable help is always available when it's needed. To learn more about our homecare services see our homecare services page.

Different people need different levels of homecare. To meet the requirements of our clients, At Your Side Homecare maintains consistent staffing levels of caring professionals. Homecare service is available for as little as a few hours a week, or as many as 24 hours a day, seven days a week
Latest posts by Donna Wrabel, LMSW (see all)