6 Ways to Reduce Stress in Seniors with Alzheimer's Disease
Senior Care in River Oaks TX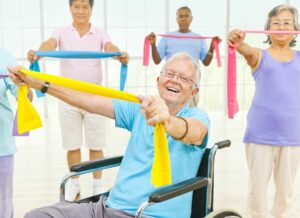 Stress can quickly cause an elder with Alzheimer's disease's symptoms to flare up, so the less stressed they are, the more manageable their condition will be. By creating a calming, relaxing environment for them, they will feel safer and much calmer. In order to make the following stress relieving tips work for them, a full-time senior care provider may be needed. They will be able to closely monitor the elder at all hours of the day in order to keep them safe.
Stress-Relieving Tips for Adults with Alzheimer's Disease
Exercise often. Exercise can do a number of wonderful things for the mental and physical health of both the elder with Alzheimer's disease and their caregiver. With the doctor's approval to do so, encourage your loved one to go for a walk, dance, or participate in seated exercises.
Bring back a favorite hobby. Did your loved one used to enjoy cooking, knitting, or participating in other activities that brought them joy? Doing these favorite pastimes may bring the elder back to a happier time. Letting them help with simple chores around the home, like folding towels or setting the table, may also give them a sense of fulfillment.
Play soothing music. When the elder is feeling angry or agitated, soothing music may help transform their behavior into a happier one. Play music your loved one enjoys during bath time, before bedtime, or when they are beginning to feel agitated.
Adopt a pet. Pets have the amazing ability to calm even the most stressed out person. While let's can bring joy to its owner's life, someone with Alzheimer's disease will not have the ability to train a puppy or kitten. A mature, well-trained pet, on the other hand, could be exactly what they need.
Socialize in small groups. Large groups of unfamiliar people could cause the senior to feel overwhelmed, which may trigger their stress. However, socializing with one person at s time can help your loved one feel calm and less irritable.
Spend time with them. Even if you assist with the caregiving tasks, how much time do you spend actually talking to your loved one? Spending quality time with them could boost the mood and. Reduces stress for both of you. When talking to them, make sure there are no distractions in the room. This includes turning the TV off and radio off, removing the phone for the room, and talking in a room where there are not multiple conversations taking place by other people.
With these tips, you will be able to help your elderly loved one relax more. Yet, if caring for someone with Alzheimer's is becoming too overwhelming for you, a senior care provider can be hired to take over for you.
Source:
http://www.helpguide.org/articles/alzheimers-dementia/alzheimers-behavior-management.htm
If you or an aging loved one are considering senior care in River Oaks, TX, please call the caring staff at At Your Side Home Care. We will answer all of your senior care questions. Call today: (832) 271-1600.
For most of us, the word "home" evokes warm feelings of comfort, security and well-being. For older adults, home also means holding tight to cherished memories and maintaining self-esteem and independence. When illness, injury or age make life a little more challenging, remaining at home in a comfortable, familiar environment encourages recovery and enhances the quality of life. Home can be defined as a private residence, an independent or assisted living facility or even a short term stay in the hospital, we recognize the additional benefits provided by a personal, professional assistant.

Our Certified Nurse Aides, 24-Hour Live-in Assistants and Home Health Aides are available 24 hours a day, 365 days a year. We also provide the security and confidence of 24-hour Telephone Assistance, so fast, reliable help is always available when it's needed. To learn more about our homecare services see our homecare services page.

Different people need different levels of homecare. To meet the requirements of our clients, At Your Side Homecare maintains consistent staffing levels of caring professionals. Homecare service is available for as little as a few hours a week, or as many as 24 hours a day, seven days a week
Latest posts by Donna Wrabel, LMSW (see all)