Senior Care in River Oaks, TX: Facing the Challenges of Aging with Positivity
Old age is something that lies ahead for everyone. With the advances in modern medicine, and increases in health and nutrition knowledge, people are living longer. Experts suggest that people prepare at an earlier age for good health in the golden age.
Working in senior care services gives you the opportunity to see firsthand, the results of health choices that people make. For example, there are about 75% of all American adults over the age of 60 who are overweight or obese. Obesity is related to several serious conditions including cardiovascular disease, high blood pressure and type 2 diabetes to name only a few.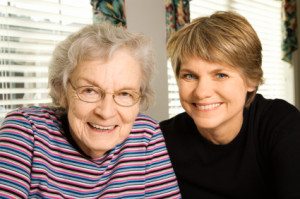 No matter how you've lived your life in the past, it's never too late to start on a new path for improved health and vitality. How do you face all of the challenges that come with aging? How does one remain positive in the journey?
Everyone has the ability to be resilient – to face a challenge and become a stronger person through that process. Here are some tips for remaining optimistic and positive despite the challenges of aging:
Try to find things you can be grateful for and appreciate the positive things in your life. Gratitude and appreciation are building blocks for positivity. Sometimes it takes a little work and effort to find something that you can appreciate, but then it makes it all the sweeter.
Have faith and hope for the future. Each day that we live is a gift and is part of our future. Keep the passions and visions of your life close at hand to draw upon when tough times come.
Try to associate with people who build you up, and avoid those that tear you down. At this time in your life when you are struggling, you need a support group. You need a person in your life that is encouraging, not one that is discouraging.
Find someone who needs you. Someone who you can do something for, kind of like an act of kindness or some other little service that surprises them and makes their life a little brighter, their day a little happier. When we look outside of our own problems and help someone else with theirs, ours tend to look smaller and less intense.
Focus on the strengths and positive aspects of your situation. Bring them into the limelight and the struggles will wither in comparison.
If you have a loved one who could benefit from the help of senior care services in river Oaks, TX contact the caregivers at At Your Side Home Care. We help seniors and their families with many levels of home care service. Call (832) 271-1600 for more information.
For most of us, the word "home" evokes warm feelings of comfort, security and well-being. For older adults, home also means holding tight to cherished memories and maintaining self-esteem and independence. When illness, injury or age make life a little more challenging, remaining at home in a comfortable, familiar environment encourages recovery and enhances the quality of life. Home can be defined as a private residence, an independent or assisted living facility or even a short term stay in the hospital, we recognize the additional benefits provided by a personal, professional assistant.

Our Certified Nurse Aides, 24-Hour Live-in Assistants and Home Health Aides are available 24 hours a day, 365 days a year. We also provide the security and confidence of 24-hour Telephone Assistance, so fast, reliable help is always available when it's needed. To learn more about our homecare services see our homecare services page.

Different people need different levels of homecare. To meet the requirements of our clients, At Your Side Homecare maintains consistent staffing levels of caring professionals. Homecare service is available for as little as a few hours a week, or as many as 24 hours a day, seven days a week
Latest posts by Donna Wrabel, LMSW (see all)