Seniors and Voting – Why it's so Important
Senior Care in River Oaks TX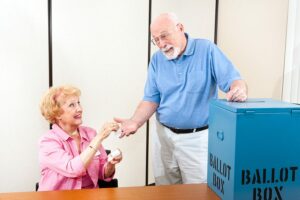 Now that the primary elections have begun for the 2016 race to the White House, you and your senior loved one have probably heard a lot of buzz about the candidates, rallies, issues, and more. It is hard to watch the news without seeing some coverage about the 2016 race for the presidency, so it is likely to be a topic of conversation between you and your loved one. Historically, the senior citizen's vote has been very important when it comes to determining the outcome of an election. Read on for some fun facts about seniors and elections and for some ways you can help your loved one get their voice heard through exercising their right to vote.
Seniors and Voting – Facts:
Seniors have had a great turnout in recent elections. In fact, 61% of Americans over the age of 65 voted in the election in November of 2010, making their age group have the best turnout of all age groups in the country. It seems that seniors have something to teach the youngest group of Americans eligible to vote (the 18-24 age group), as only 21% of this age group turned out to vote in November 2010.
There are many issues that affect seniors directly such as decisions surrounding Social Security, Medicare, and healthcare in the United States in general. Since decisions on these issues can affect a senior's daily life, the voices of senior citizens in this country is very important.
Because of the Americans with Disabilities Act, polling places must be accessible to all people with disabilities. This means seniors using wheelchairs, canes, and walkers should never be excluded from entering a polling place to cast their vote.
What You Can Do to Help Your Senior Loved One Vote and to get Their Voice Heard:
Accompany them to the polling place. Even though it is handicap-accessible, your loved one may still need some assistance.
Does your senior loved one have free time that they would like to fill with meaningful experiences? Encourage them to volunteer to help with a campaign or become a poll worker. Both of these things don't require a large time commitment, but they can make a big impact.
Encourage your senior loved one to share their voting experiences with the younger generation as this can inspire a new generation of voters!
Source: http://money.usnews.com/money/retirement/articles/2012/03/19/why-older-citizens-are-more-likely-to-vote
If you or an aging loved one are considering senior care in River Oaks, TX, please call the caring staff at At Your Side Home Care. We will answer all of your senior care questions. Call today: (832) 271-1600.
For most of us, the word "home" evokes warm feelings of comfort, security and well-being. For older adults, home also means holding tight to cherished memories and maintaining self-esteem and independence. When illness, injury or age make life a little more challenging, remaining at home in a comfortable, familiar environment encourages recovery and enhances the quality of life. Home can be defined as a private residence, an independent or assisted living facility or even a short term stay in the hospital, we recognize the additional benefits provided by a personal, professional assistant.

Our Certified Nurse Aides, 24-Hour Live-in Assistants and Home Health Aides are available 24 hours a day, 365 days a year. We also provide the security and confidence of 24-hour Telephone Assistance, so fast, reliable help is always available when it's needed. To learn more about our homecare services see our homecare services page.

Different people need different levels of homecare. To meet the requirements of our clients, At Your Side Homecare maintains consistent staffing levels of caring professionals. Homecare service is available for as little as a few hours a week, or as many as 24 hours a day, seven days a week
Latest posts by Donna Wrabel, LMSW (see all)