Senior Care Tips: Proper Care for Your Parent's Contact Lenses
Senior Care in Memorial TX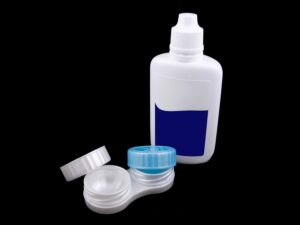 May is Healthy Vision Month and that means this is the month to make sure that taking proper care of your parent's eyes is an important part of your senior care routine. This means going to the eye doctor regularly, protecting their eyes from the sun, and preventing the spread of bacterial infections. If your senior wears contact lenses, this also means making sure that they take proper care of those lenses and their eyes while wearing them. This ensures that they get the most benefit from the lenses while protecting their eyes from potential damage and infection.
Use these tips to ensure that your parent is protecting their vision and their eye health by taking proper care of their contact lenses during Healthy Vision Month and throughout the rest of the year:
• Know the guidelines. All contact lenses are not created equal. It is important that your parent knows their eye doctor's guidelines regarding their contact use and follows these guidelines exactly. This means knowing the prescription in each eye, how long to wear them during the day, and when to replace each pair. Some contacts are designed for use for only one day, some must be removed for sleeping, and others can be worn continuously for up to 30 days. Know these details and stick to them for maximum benefit and minimum risk of eye health or vision problems.
• Avoid water. Avoid letting the lenses come into contact with water. This includes during the cleaning process and when wearing them, such as when swimming or showering. Your parent should never use water to rinse a contact or to store their lenses. This includes sterile water. Instead, make sure that they always have a bottle of saline solution with them to allow for rinsing or storing when away from home.
• Use proper disinfectant. Disinfecting the lenses is an important step in keeping them healthy. Saline solution, rewetting drops, or artificial tears do not have disinfecting properties and are not sufficient to control infection risk. Make sure your parent includes a "rub and rinse" step in their contact care routine. This includes rubbing the contact with disinfectant drops and then rinsing with saline drops before storing in saline solution.
• Control germs. Make sure that your parent thoroughly washes their hands before putting their contacts in, taking them out, or cleaning them. This will help to prevent the spread of germs from their hand to the lenses and then to their eyes. Make sure that they never share contact lenses with anyone, or store their lenses in the same container with someone else's lenses. They should also be sure to replace their case every few months to ensure it is healthy and clean.
• Care for bottles properly. Part of germ control, it is vital that your parent takes proper care of their bottles of solution. They should never allow the cap of the bottle to remain open when not in use. This can lead to contamination. They should also never touch the tip of the bottle to their eye, the contact lens, the container, or any other surface. If this happens, dispose of the bottle and get a new one to prevent contamination and possible infection.
Source
http://www.aao.org/eye-health/glasses-contacts/contact-lens-care
If you or an aging loved one are considering senior care in Memorial, TX, please call the caring staff at At Your Side Home Care. We will answer all of your senior care questions. Call today: (832) 271-1600.
For most of us, the word "home" evokes warm feelings of comfort, security and well-being. For older adults, home also means holding tight to cherished memories and maintaining self-esteem and independence. When illness, injury or age make life a little more challenging, remaining at home in a comfortable, familiar environment encourages recovery and enhances the quality of life. Home can be defined as a private residence, an independent or assisted living facility or even a short term stay in the hospital, we recognize the additional benefits provided by a personal, professional assistant.

Our Certified Nurse Aides, 24-Hour Live-in Assistants and Home Health Aides are available 24 hours a day, 365 days a year. We also provide the security and confidence of 24-hour Telephone Assistance, so fast, reliable help is always available when it's needed. To learn more about our homecare services see our homecare services page.

Different people need different levels of homecare. To meet the requirements of our clients, At Your Side Homecare maintains consistent staffing levels of caring professionals. Homecare service is available for as little as a few hours a week, or as many as 24 hours a day, seven days a week
Latest posts by Donna Wrabel, LMSW (see all)