Senior Care in Houston, TX: Does Your Loved One Have Glaucoma?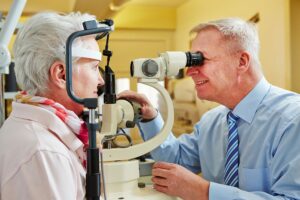 This disease can sneak in like a thief in the night. It is described this way because there are only a few if any early symptoms and if it's left undiagnosed and therefore untreated, blindness can result. This condition is not as prevalent as cataracts, but it's much more serious. It is known to cause permanent damage to the eye rather quickly.
What are the early warning signs? Family members and your loved one's caregiver with senior health care services should be aware of the following:
Family history of glaucoma because it runs in families. It is more prevalent among African Americans.
The simple and painless test for glaucoma should be performed regularly every year after age 35.
Advanced glaucoma produces tunnel vision where the person can see clearly near the center of vision but not around the peripheral area.
Glaucoma occurs more in adults who are inactive, as the body's lymph system can function much more effectively when it is kept moving.
Glaucoma results when the eye's fluid content becomes too viscous; in other words it doesn't drain properly and causes a buildup of pressure against the optic nerve.
Senior care services can encourage regular activity and movement, make sure the elderly adult attends regular eye checkups and monitor the daily application of eye drops if they are prescribed. If there are any problems with the eye drops that are out of the ordinary, the doctor should be consulted again. Some patients notice a little bit of stinging when the drops are first applied; if this doesn't abate, the doctor should be contacted.
The problem with glaucoma is it's painless. The drops prescribed must be applied daily, even though the elder may become lazy or forgetful in doing it. The caregiver can help him or her to make a chart to put up on the wall so that every time the drops are administered, a check mark can be placed.
A senior care worker can help remind the senior to place the drops in her eyes daily, but only senior health care services personnel would be able to administer them, because they have medical training.
Most of the time this potential sight-stealer can be detected early and treated before it balloons out of control. Eyesight is something everyone places high value on, especially elderly people who may be losing some of their other abilities to some extent, like walking, climbing stairs, driving, etc.
Good eyesight is something that will help seniors retain higher quality of life as it allows them to read, watch movies, see beautiful things, see people they love, etc. It's worth holding onto good eyesight for as long as possible.
If you have a loved one who could benefit from the help of a senior care in Houston, TX contact the caregivers at At Your Side Home Care. We help seniors and their families with many levels of home care service. Call (832) 271-1600 for more information.
For most of us, the word "home" evokes warm feelings of comfort, security and well-being. For older adults, home also means holding tight to cherished memories and maintaining self-esteem and independence. When illness, injury or age make life a little more challenging, remaining at home in a comfortable, familiar environment encourages recovery and enhances the quality of life. Home can be defined as a private residence, an independent or assisted living facility or even a short term stay in the hospital, we recognize the additional benefits provided by a personal, professional assistant.

Our Certified Nurse Aides, 24-Hour Live-in Assistants and Home Health Aides are available 24 hours a day, 365 days a year. We also provide the security and confidence of 24-hour Telephone Assistance, so fast, reliable help is always available when it's needed. To learn more about our homecare services see our homecare services page.

Different people need different levels of homecare. To meet the requirements of our clients, At Your Side Homecare maintains consistent staffing levels of caring professionals. Homecare service is available for as little as a few hours a week, or as many as 24 hours a day, seven days a week
Latest posts by Donna Wrabel, LMSW (see all)