Delicious and Nutritious Options for Oatmeal Month
Senior Care in Houston TX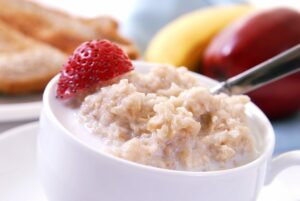 As a family caregiver you know how important it is to make sure that your aging parent gets the nutrition that they need on a daily basis. What your senior loved one eats makes a tremendous impact on their health and well-being, including their ability to ward off a wide variety of illnesses and health complications. Finding delicious, satisfying meals and snacks that your parent enjoys can help your parent live healthier and enjoy a higher quality of life as they age in place.
January is Oatmeal Month. This is the ideal opportunity for you to take advantage of all of the nutritional benefits provided by this delicious and versatile food, including whole grains, sustained energy, healthy digestion, cholesterol control, heart health, and more. You might immediately think of a bowl of simple oatmeal for breakfast in the morning, but that does not have to be the only way that your aging parent enjoys it.
Try some of these delicious and nutritious options for bringing the goodness of oatmeal into your aging parent's diet:
• Pumpkin pie oatmeal. There is still plenty of time to enjoy the deliciousness of pumpkin pie flavor. Make oatmeal with milk or a plant milk and then add a swirl of pumpkin puree and pumpkin pie spice. Top with roasted pumpkin seeds for extra flavor, texture, and nutrition.
• Oatmeal parfaits. Make dessert healthier by choosing a parfait. Toss oatmeal with butter or vegetable oil, brown sugar, salt, and cinnamon and bake until crisp. Layer this with vanilla Greek yogurt and berries for a fresh, flavorful treat.
• Energy balls. Process oatmeal, dates, and peanut butter, roll into balls with powdered sugar, cocoa powder, or ground flaxseed, and chill until firm. Enjoy these little bites any time you or your aging parent need a boost of energy.
• Savory oatmeal. A bowl of oatmeal does not have to be a sweet experience. Try adding butter, salt, and chopped cooked bacon to cooked oatmeal for a rich, savory breakfast or dinner.
If you are concerned about your aging parent's health or safety, or have noticed challenges, issues, and limitations that make you worry about their ability to live independently safely, healthily, and comfortably, now may be the ideal time for you to consider senior care for them. A senior home care services provider can be with your aging parent on a customized schedule to ensure that they get everything that they need to maintain their quality of life throughout their later years. When it comes to helping them live a healthier lifestyle as they age in place by eating a better, more balanced diet, this senior care provider can be extremely helpful. They can provide safe and reliable transportation to the grocery store to help your parent select the foods that are right for their needs, research recipes that fit with your parent's tastes and dietary limitations, and even get into the kitchen to provide meal preparation assistance. This empowers your parent to make better decisions regarding their nutrition, and also supports mental and emotional health as they find recipes, explore new foods, and prepare meals and snacks.
If you or an aging loved one are considering senior care in Houston, TX, please call the caring staff at At Your Side Home Care. We will answer all of your senior care questions. Call today: (832) 271-1600.
For most of us, the word "home" evokes warm feelings of comfort, security and well-being. For older adults, home also means holding tight to cherished memories and maintaining self-esteem and independence. When illness, injury or age make life a little more challenging, remaining at home in a comfortable, familiar environment encourages recovery and enhances the quality of life. Home can be defined as a private residence, an independent or assisted living facility or even a short term stay in the hospital, we recognize the additional benefits provided by a personal, professional assistant.

Our Certified Nurse Aides, 24-Hour Live-in Assistants and Home Health Aides are available 24 hours a day, 365 days a year. We also provide the security and confidence of 24-hour Telephone Assistance, so fast, reliable help is always available when it's needed. To learn more about our homecare services see our homecare services page.

Different people need different levels of homecare. To meet the requirements of our clients, At Your Side Homecare maintains consistent staffing levels of caring professionals. Homecare service is available for as little as a few hours a week, or as many as 24 hours a day, seven days a week
Latest posts by Donna Wrabel, LMSW (see all)