Involved Senior Care: Being an Active Participant of Your Parent's Doctor's Appointment
Senior Care in Houston TX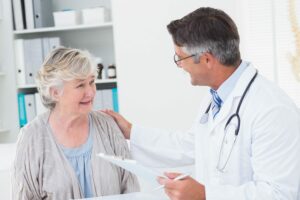 It is a startling reality that around 80 percent, approximately 4 out of 5, elderly adults dealing with multiple medical conditions on a daily basis. This means that it is very likely your parent is balancing a variety of medical needs and the treatments and courses of management of those needs. In your elderly care journey with her, visiting doctors will be something that happens relatively frequently. Whether it is just checkups, visits for new symptoms, or receiving treatments, these visits are what will help your parent confront her medical conditions and handle them in her daily life in the most effective way possible.
Being an active participant in your parent's doctor's appointment is an important part of being her advocate and ensuring that she gets the treatment and care that she needs and deserves. This does not mean that you should take over the appointment or that you should override your parent's independence or privacy during the appointment. Instead, it simply means that you should take steps to ensure that your parent, and your elderly care plan, get the maximum benefit from the appointment.
Use these tips to be an active participant in your parent's doctor's appointment:
• Prepare questions ahead of time. In the time leading up to the appointment, compile a list of all of the questions that you might have for the doctor. This could be anything from why your parent is dealing with particular symptoms to what you can do in your care routine to help reduce risk for further issues. Get as specific as you want to, but write these questions down. If you just have them in your mind you are likely to forget about them. Consider leaving space between the written questions so that you can later record the answer.
• Bring your own information. If your parent is going into the doctor it is likely that she has been dealing with symptoms or issues that have caused you concern. Take some time to record these symptoms and other information that you may deem applicable, such as what she eats, her activity level, and her compliance with her medications and guidelines. Having this information on hand will let you give the doctor the full picture of what your parent is going through.
• Listen carefully. Do not get so wrapped up in the questions that you want to ask and the information that you have brought along with you that you do not listen carefully to what the doctor has to say. You might find that he answers your questions on his own without you having to ask, or that he provides information that you did not think about. Take notes of what he has said, including new care guidelines and changes to your old care, so that you can reference them later.
• Let your parent talk. Being a participant does not mean taking the focus away from your parent. Encourage her to be vocal and involved in the appointment. Remember, however, that many seniors will try to minimize what they are going through and will not be honest with the doctor about symptoms and other issues. Be there to fill in the gaps for the doctor.
Source
http://www.jhsph.edu/news/news-releases/2014/life-expectancy-gains-threatened-as-more-older-americans-suffer-from-multiple-medical-conditions.html
If you or an aging loved one are considering senior care in Houston, TX, please call the caring staff at At Your Side Home Care. We will answer all of your senior care questions. Call today: (832) 271-1600.
For most of us, the word "home" evokes warm feelings of comfort, security and well-being. For older adults, home also means holding tight to cherished memories and maintaining self-esteem and independence. When illness, injury or age make life a little more challenging, remaining at home in a comfortable, familiar environment encourages recovery and enhances the quality of life. Home can be defined as a private residence, an independent or assisted living facility or even a short term stay in the hospital, we recognize the additional benefits provided by a personal, professional assistant.

Our Certified Nurse Aides, 24-Hour Live-in Assistants and Home Health Aides are available 24 hours a day, 365 days a year. We also provide the security and confidence of 24-hour Telephone Assistance, so fast, reliable help is always available when it's needed. To learn more about our homecare services see our homecare services page.

Different people need different levels of homecare. To meet the requirements of our clients, At Your Side Homecare maintains consistent staffing levels of caring professionals. Homecare service is available for as little as a few hours a week, or as many as 24 hours a day, seven days a week
Latest posts by Donna Wrabel, LMSW (see all)