Senior Care in Houston, TX: In Home Care and Alzheimer's
It can certainly be a challenge to provide in home care for an elderly family member who is coping with Alzheimer's disease. It affects memories and disrupts their ability to carry through with simple daily tasks of life. Of course, this can be very frustrating for the family member who is primary caregiver.
The elderly person with Alzheimer's has unpredictable behavior and this makes normally simple things like eating, dressing, bathing and sleeping seem like huge hurdles to jump. It takes a lot of patience to provide safe and effective care to your loved one who suffers from the ravages of Alzheimer's disease.
Tips for caregiving an Alzheimer's patient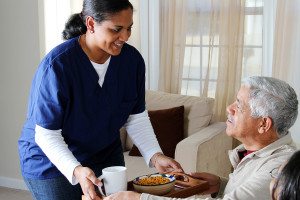 Gently encourage – help them maintain their sense of dignity. This is very important. They easily get confused which is frustrating to them and exasperating to their caregiver. The senior is not purposefully being difficult or hard to get along with. It's important to remember that and encourage her or him to perform their tasks using gentle words and a calm voice.
Maintain routines – consistent routines that are maintained as closely as possible are very helpful. There are some activities they may really enjoy which they find relaxing like painting, listening to music, folding towels for example. There are times when they will feel really anxious, like bath time or bed time. Try to make sure they have these anxiety-causing activities at the same time each day so the routine feels more natural for them. The hours leading up to bath time or bed time should be filled with the relaxing activities.
Rest time – seniors need lots of time to stop and rest especially if they find a particular task very difficult. Trying to get them to hurry or pushing them into doing something quickly never produces good results.
Providing a safe environment – the Alzheimer's patient will slowly lose their ability to grasp possible dangers and understand that something is not good. For example, securely lock medicine cabinets. You must also latch and lock all doors and windows to prevent them from wandering outside and getting lost.
Use senior care services – caregivers are trained in dealing with Alzheimer's patients and know exactly what to do in the many different situations that arise. They can engage the elderly loved one in memory stimulating activities. They are trained in dealing with aggressive behaviors and know how to help the elderly senior have the highest quality of life possible when dealing with this disease.
If you have a loved one who could benefit from the help of senior care in Houston, TX contact the caregivers at At Your Side Home Care. We help seniors and their families with many levels of home care service. Call (832) 271-1600 for more information.
For most of us, the word "home" evokes warm feelings of comfort, security and well-being. For older adults, home also means holding tight to cherished memories and maintaining self-esteem and independence. When illness, injury or age make life a little more challenging, remaining at home in a comfortable, familiar environment encourages recovery and enhances the quality of life. Home can be defined as a private residence, an independent or assisted living facility or even a short term stay in the hospital, we recognize the additional benefits provided by a personal, professional assistant.

Our Certified Nurse Aides, 24-Hour Live-in Assistants and Home Health Aides are available 24 hours a day, 365 days a year. We also provide the security and confidence of 24-hour Telephone Assistance, so fast, reliable help is always available when it's needed. To learn more about our homecare services see our homecare services page.

Different people need different levels of homecare. To meet the requirements of our clients, At Your Side Homecare maintains consistent staffing levels of caring professionals. Homecare service is available for as little as a few hours a week, or as many as 24 hours a day, seven days a week
Latest posts by Donna Wrabel, LMSW (see all)