Senior Care in Houston, TX: Overcoming barriers to Exercising
Helping an aging loved one remember to do their regular daily exercises is part of many senior home services. The elderly adult may have many challenges to face – physical, mental and emotional. Sometimes they have fears around injuries or falling while exercising.
Some of the barriers (to exercising) seniors face
They may feel self-conscious about their weight
They may feel their injury or disability prevents them from being able to exercise
They may be worried about illness and how it will be affected by exercise
They may be fearful about falling or losing balance while exercising
They may feel they are too old to go to an exercise class and that other participants will make fun of them or mock them for being aged and not moving as fast as everyone else
They may not have any senior exercise opportunities close by
They may want someone to go with but can't find another senior willing to go with them
They may be self-conscious about their lessened amounts of balance and coordination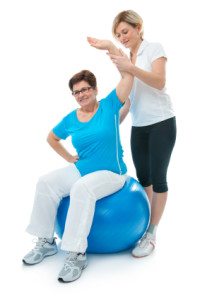 Tips for exercising with a disability or injury
Living a less-active lifestyle is not necessarily the answer for people with long-term injuries or disabilities. It can be even more important for them to exercise regularly, because they may not be moving around as much for daily activities.
Engage in regular activity according to the disability
Avoid inactivity
Either 150 minutes per week of an activity that is of moderate intensity or 75 minutes per week of an activity of vigorous intensity
Involve all the major muscle groups
Walking, jogging or use of an elliptical machine when capability allows
Swimming even with flotation aids is very beneficial
Weight training, reducing resistance if necessary
Isometric exercises help with arthritis or an injury. These types of exercises help in preventing progressive muscle deterioration
Precautions for exercising in a wheelchair or chair
Being bound to a chair or wheelchair because of illness or injury doesn't mean a person can't join in on the fun and health benefits of exercise! Seniors can improve their posture, strengthen muscles to reduce risk of falling, and lessen the risk of getting body sores from constant sitting.
Immobilize the chair or put the brakes on the wheelchair for safety
Sit up tall in the chair and maintain good posture using your abs
Check blood pressure before exercising if there is a high blood pressure problem
Avoid chair exercises involving weights
If blood sugar is a problem, check it before and after exercising
If you have a loved one who could benefit from the help of senior care services in Houston, TX contact the caregivers at At Your Side Home Care. We help seniors and their families with many levels of home care service. Call (832) 271-1600 for more information.
For most of us, the word "home" evokes warm feelings of comfort, security and well-being. For older adults, home also means holding tight to cherished memories and maintaining self-esteem and independence. When illness, injury or age make life a little more challenging, remaining at home in a comfortable, familiar environment encourages recovery and enhances the quality of life. Home can be defined as a private residence, an independent or assisted living facility or even a short term stay in the hospital, we recognize the additional benefits provided by a personal, professional assistant.

Our Certified Nurse Aides, 24-Hour Live-in Assistants and Home Health Aides are available 24 hours a day, 365 days a year. We also provide the security and confidence of 24-hour Telephone Assistance, so fast, reliable help is always available when it's needed. To learn more about our homecare services see our homecare services page.

Different people need different levels of homecare. To meet the requirements of our clients, At Your Side Homecare maintains consistent staffing levels of caring professionals. Homecare service is available for as little as a few hours a week, or as many as 24 hours a day, seven days a week
Latest posts by Donna Wrabel, LMSW (see all)