Senior Care in Hilshire Village, TX: How to Pick a Loved One Up After a Fall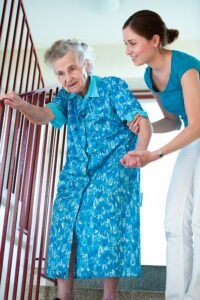 Knowing the proper way to safely pick up a loved one after a fall will be beneficial for both the senior care provider and the elder. Not only do you risk hurting your loved one if you don't know how to safely move or lift an elder who has fallen but you risk sustaining an injury yourself.
Guidelines for helping a senior upright who hasn't been injured from a fall are:
Remain calm and chances are your loved one will stay calm. Encourage slow, deep breaths.
Check for any injuries such as bruises, abrasions or broken bones.
DO NOT move the elder if they have suffered any serious injuries. Call 9-1-1 and keep the person as calm and comfortable as possible until help arrives on the scene.

If the elder isn't hurt badly and they would like to get up,

proceed at a slow pace. If they become stuck or too exhausted to get upright all the way, stop and try and keep them as comfortable as you can until they are ready to continue.

In order for

senior care

to perform the task of helping a loved one up safely, they need to keep in mind that the elder should be the one physically getting up.

Senior care services

can help guide but should not lift the elder's weight.

Guide the elder onto their side and then into a kneeling position. Use a towel if the individual suffers from sore knees.

Place a chair in front of

the elder who is in a kneeling position. Have them place their hands evenly on the seat. Have the elder lean on the seat while bringing one leg forward and placing that foot on the floor.

Have a second chair nearby and directly behind the elder. Have the use their arms and legs to lift themselves up to sit on the chair behind them. The

senior care

provider assisting should keep their back upright as they guide the elder with their hands. Do not lift the elder.
A great way to prepare senior care providers on what to do in the event an elderly loved one takes a fall is to take a caregiver training course. However, if you are ever in a situation where you are unsure about whether or not a senior who took a tumble is injured, the safest thing to do is to call 9-1-1.
If you have a loved one who could benefit from the help of elder care in Spring Valley, TX contact At Your Side Home Care. We help seniors and their families with many levels of home care service. Call (832) 271-1600 for more information.
For most of us, the word "home" evokes warm feelings of comfort, security and well-being. For older adults, home also means holding tight to cherished memories and maintaining self-esteem and independence. When illness, injury or age make life a little more challenging, remaining at home in a comfortable, familiar environment encourages recovery and enhances the quality of life. Home can be defined as a private residence, an independent or assisted living facility or even a short term stay in the hospital, we recognize the additional benefits provided by a personal, professional assistant.

Our Certified Nurse Aides, 24-Hour Live-in Assistants and Home Health Aides are available 24 hours a day, 365 days a year. We also provide the security and confidence of 24-hour Telephone Assistance, so fast, reliable help is always available when it's needed. To learn more about our homecare services see our homecare services page.

Different people need different levels of homecare. To meet the requirements of our clients, At Your Side Homecare maintains consistent staffing levels of caring professionals. Homecare service is available for as little as a few hours a week, or as many as 24 hours a day, seven days a week
Latest posts by Donna Wrabel, LMSW (see all)