How Can Depression Impact Your Parent's Health?
Senior Care in Far West Houston TX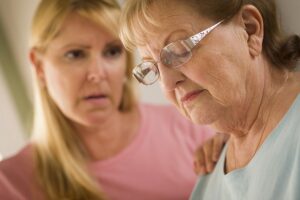 As a caregiver you put tremendous effort into making sure that your loved one gets the care, support, and assistance that they need to live a high quality of life. While creating your care approach it is important to realize that there are potential risks to your parent's quality of life that go beyond the most obvious, such as the potential for falls or the development of Alzheimer's disease. Older adults are at risk for developing depression which can lead to physical health concerns that dramatically impact their quality of life. Understanding these health impacts and being able to recognize them enables you to be both proactive and reactive in giving your loved one the proper care as they age in place.
Some ways the depression can impact your parent's health include:
Digestive troubles. If your parent is dealing with difficulties with their digestive system you may immediately think that it is a disease of the stomach or the intestines, or that they may have come into contact with spoiled food. If these symptoms are frequent, however, it could be a sign that they are dealing with depression. This can lead to them not getting enough of the nutrients that they need, dehydration, and other complications.
Headaches. Frequent headaches are another common sign of depression. These are not just painful at the moment that your senior is suffering. They can also lead to your loved one not being as engaged and active as they should be. Immobility increases the chances of physical health complications, compounding the impact of the depression.
Fatigue. A senior who is dealing with depression may also experience periods of fatigue. This can further lead to immobility, which then causes more fatigue, creating a cycle that can lead to your parent living a largely sedentary, withdrawn life. This increases the chance of deeper depression, further increasing the depression that they are experiencing.
Aches and pains. Aches, pains, and stiffness may be immediately attributed to arthritis, but they may actually be due to depression. These uncomfortable symptoms can reduce your parent's activity level and lead to them not getting the physical exercise that they need to keep their body health, furthering the pain and stiffness and putting them at higher risk for issues such as cardiovascular disease and stroke.
If your parent has been suffering from depression and you are concerned about the impact that this condition is making on their health, now may be an ideal time for you to consider adding senior care to your parent's overall care routine. A senior home care services provider can create a customized approach to care and assistance that provides the level of support and encouragement that your loved one needs to manage and work through their depression, as well as the physical care that they need to improve and maintain their physical health. In combination with the care that you give them, this senior care can give your loved one a better chance of a high quality of life and reduced risk of lasting complications associated with their depression.
Source
http://www.cdc.gov/aging/mentalhealth/depression.htm
http://www.healthline.com/health/depression/elderly
If you or an aging loved one are considering senior care in Far West Houston, TX, please call the caring staff at At Your Side Home Care. We will answer all of your senior care questions. Call today: (832) 271-1600.
For most of us, the word "home" evokes warm feelings of comfort, security and well-being. For older adults, home also means holding tight to cherished memories and maintaining self-esteem and independence. When illness, injury or age make life a little more challenging, remaining at home in a comfortable, familiar environment encourages recovery and enhances the quality of life. Home can be defined as a private residence, an independent or assisted living facility or even a short term stay in the hospital, we recognize the additional benefits provided by a personal, professional assistant.

Our Certified Nurse Aides, 24-Hour Live-in Assistants and Home Health Aides are available 24 hours a day, 365 days a year. We also provide the security and confidence of 24-hour Telephone Assistance, so fast, reliable help is always available when it's needed. To learn more about our homecare services see our homecare services page.

Different people need different levels of homecare. To meet the requirements of our clients, At Your Side Homecare maintains consistent staffing levels of caring professionals. Homecare service is available for as little as a few hours a week, or as many as 24 hours a day, seven days a week
Latest posts by Donna Wrabel, LMSW (see all)