Senior Care Focus: Encouraging Your Parents to See Aging as an Exciting New Chapter
Senior Care in Hilshire Village, TX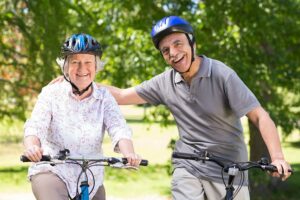 "I'm too old for this."
If you are like many people going on a senior care journey with your elderly loved ones, you have probably heard that phrase many times. You may have even said it yourself. This a phrase that people use to limit themselves and others, focusing on their perceived ideas of what age means and a person "should" behave according to the number attached to them. While there are times when this phrase is applicable and should probably be followed – your aging mother should probably not attempt to dress like your 16-year-old daughter and your elderly father might not want to suddenly take up skydiving when he has never been in an airplane before for example – it is not one that should act like a blanket statement your aging parents, or you, use to limit them in their older years.
Instead of letting your parents use "I'm too old for this" to limit them, encourage them to empower themselves with this phrase and let them use it to strengthen and free themselves to see their aging years and their senior care journey with you as a fresh new chapter filled with opportunity. This not only makes the care journey more enjoyable and exciting for you, but it also encourages them to have better mental and emotional health for long-lasting higher quality of life.
Use these ideas, and share them with your aging loved ones' senior health care services provider, to claim the phrase "I'm too old for this" and recharge their lifestyle for an active, healthy, and exciting new chapter in their lives:
"I'm too old…"
• To not learn something new every day. Most people never lose the ability to learn new things, so instead of thinking that your parents are too far in their lives to learn more, think that they are too old not to know the importance and value of learning new things and encourage them to choose topics that interest them, research those topics, and fill their minds with wonderful new facts and ideas.
• To not accept help. Being stubborn and refusing to let others help you should be left behind when you get into your older years. Your aging loved ones have not only earned the right to enjoy a comfortable, happy, and healthy lifestyle, but they have also built up the wisdom to know that relying on others and accepting compassion and assistance supports emotional health and enhances quality of life.
• To worry about what others think. This can be a life-changing concept. In a society where youth is worshipped and older adults are often pushed aside and seen as less, many seniors find themselves overly concerned about what others think they can accomplish, and what they should be attempting to accomplish in the first place. Encourage your parents not to do this. Let them know that they are the ones who have lived the years, built the life experience, and given of themselves enough that they have earned the right to live whatever life they want. They should not care what others think of them or let these thoughts limit their ambitions. If your mother wants to learn to rollerblade so she can visit Los Angeles and rollerblade along the boardwalk next summer, she should do it. If your father really does want to skydive and is in good enough health, he should absolutely go for it. Empowering your parents to think about themselves and not let others hold them back supports a lifestyle that is fun, exciting, and healthy no matter how old they get.
If you have a loved one who could benefit from in-home senior care in Hilshire Village, TX contact At Your Side Home Care. We help seniors and their families with many levels of home care service. Call (832) 271-1600 for more information.
For most of us, the word "home" evokes warm feelings of comfort, security and well-being. For older adults, home also means holding tight to cherished memories and maintaining self-esteem and independence. When illness, injury or age make life a little more challenging, remaining at home in a comfortable, familiar environment encourages recovery and enhances the quality of life. Home can be defined as a private residence, an independent or assisted living facility or even a short term stay in the hospital, we recognize the additional benefits provided by a personal, professional assistant.

Our Certified Nurse Aides, 24-Hour Live-in Assistants and Home Health Aides are available 24 hours a day, 365 days a year. We also provide the security and confidence of 24-hour Telephone Assistance, so fast, reliable help is always available when it's needed. To learn more about our homecare services see our homecare services page.

Different people need different levels of homecare. To meet the requirements of our clients, At Your Side Homecare maintains consistent staffing levels of caring professionals. Homecare service is available for as little as a few hours a week, or as many as 24 hours a day, seven days a week
Latest posts by Donna Wrabel, LMSW (see all)