Saving Money While Grocery Shopping with Seniors
Senior Care in The Heights, TX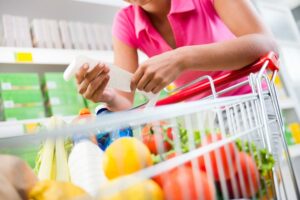 Nobody wants to spend more than they have to on the things they need. But when seniors are living on a fixed income, those dollars often have to be stretched to the maximum and the family caregivers are the ones to try to find the best deals. But there are definitely ways to do it.
First of all, encourage your senior to sign up for all available senior or other discount programs and then use them! If your local grocery store has a loyalty plan, have them join it. While they may be collecting information on the grocery buying habits of older seniors in the community, they will be providing valuable discounts in exchange for it. So take advantage of it.
Second, don't go shopping on an empty stomach, yours or theirs. Shopping while hungry is a great way to spend money you don't have on things you don't need. Instead, take inventory of what's already in the house before you go and only stock up on things you know won't go bad, are on sale, and will be a constant need. It's not wrong to buy a stockpile of toilet paper, for example, but there's only so much ketchup anyone can use in a year.
Third, don't buy what you won't eat. And don't let your senior do that either. Just because eating healthy is a good choice, if they won't actually eat it, it's a waste. On the other hand, just because they might want to eat junk food is not a good reason to buy a lot of it because if it is in the house with them and you're not there, it will disappear. Try to avoid a lot of salty snacks or buy them in individual packages when they're on sale.
Fourth, plan out what meals are going to be and then when you are at the store, buy everything that you can in store brands, on sale, and in bulk. For example, if your senior is a chicken pot pie lover, and instead of a regular 8 inch pie pan they fill a 9×13 pan or even a lasagna pan with their pie, they can then cut and freeze individual portions. They may be spending a little bit more on the ingredients but may also get more meals out of it in the long run. It may be worth investing in a set of freezable food storage containers to help them save money in the long run.
If you or an aging loved one are considering senior care in The Heights, TX, please call the caring staff at At Your Side Home Care. We will answer all of your senior care questions. Call today: (832) 271-1600.
For most of us, the word "home" evokes warm feelings of comfort, security and well-being. For older adults, home also means holding tight to cherished memories and maintaining self-esteem and independence. When illness, injury or age make life a little more challenging, remaining at home in a comfortable, familiar environment encourages recovery and enhances the quality of life. Home can be defined as a private residence, an independent or assisted living facility or even a short term stay in the hospital, we recognize the additional benefits provided by a personal, professional assistant.

Our Certified Nurse Aides, 24-Hour Live-in Assistants and Home Health Aides are available 24 hours a day, 365 days a year. We also provide the security and confidence of 24-hour Telephone Assistance, so fast, reliable help is always available when it's needed. To learn more about our homecare services see our homecare services page.

Different people need different levels of homecare. To meet the requirements of our clients, At Your Side Homecare maintains consistent staffing levels of caring professionals. Homecare service is available for as little as a few hours a week, or as many as 24 hours a day, seven days a week
Latest posts by Donna Wrabel, LMSW (see all)