Rewards for the Caregivers in The Heights, TX
When you have taken on the role of the caregiver for an aging parent or other loved one, you have taken on a great responsibility. If your mother or father has shown signs that he or she is unable to take care of himself or herself in a safe and healthy manner on a regular basis, then you have likely decided that you will either find the right caregiver or provide that level support yourself.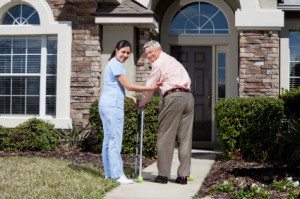 While this is a great responsibility, and you certainly aren't seeking any kind of financial compensation for taking care of your own parent, it's a good idea to understand what the rewards are for being a caregiver. No, this does not mean you will get a greater stake in the family assets or will be favored more than your other siblings. It means that you will have gained a certain reward that is reserved for most caregivers.
The satisfaction of helping others in need. Being able to help someone else in need offers one of its own great rewards. You feel better about yourself, you can take away a positive feeling that you made a difference in somebody's life. This kind of reward is almost immeasurable in reality. However, when you are caregiver for someone else, that reward stays with you for the rest of your life.
Spending more time with the person who used take care of you. Taking care of an aging parent can allow you to have more one-on-one time with them before it's too late. When we grow up and get jobs and raise families of our own, we often neglect the moments with our own parents that can be so precious. While the last thing you want to deal with is witnessing your mother or father's health deteriorating, you can find great value in being able to support them, get to know them a little better as an adult, and return a little bit of care that they gave to you when your child.
Saving money? Some people think of rewards as being monetarily based. You may think that you are saving a lot of money for yourself or your parents by being the primary caregiver to them when they need it. However, there are a number of in-home care services and agencies that can provide more professional and consistent care that you might not be able to at the moment, and depending on your parents Medicare or Medicaid insurance, it could be very cost-effective.
There are number of rewards for being a caregiver, but each one will depend on your personality, what your expectations are, and the level of care that is required by your loved one. Never underestimate the value of being a caregiver to whoever happens to need it.
If you have a loved one who could benefit from the help of home care services in The Heights, TX contact the caregivers at At Your Side Home Care. We help seniors and their families with many levels of home care service. Call (832) 271-1600 for more information.
For most of us, the word "home" evokes warm feelings of comfort, security and well-being. For older adults, home also means holding tight to cherished memories and maintaining self-esteem and independence. When illness, injury or age make life a little more challenging, remaining at home in a comfortable, familiar environment encourages recovery and enhances the quality of life. Home can be defined as a private residence, an independent or assisted living facility or even a short term stay in the hospital, we recognize the additional benefits provided by a personal, professional assistant.

Our Certified Nurse Aides, 24-Hour Live-in Assistants and Home Health Aides are available 24 hours a day, 365 days a year. We also provide the security and confidence of 24-hour Telephone Assistance, so fast, reliable help is always available when it's needed. To learn more about our homecare services see our homecare services page.

Different people need different levels of homecare. To meet the requirements of our clients, At Your Side Homecare maintains consistent staffing levels of caring professionals. Homecare service is available for as little as a few hours a week, or as many as 24 hours a day, seven days a week
Latest posts by Donna Wrabel, LMSW (see all)