Questions to Ask when Considering Senior Care in Memorial, TX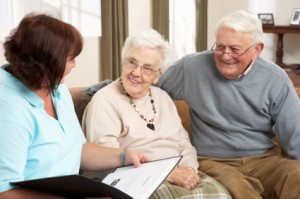 Are you thinking about hiring senior care for your elderly mother? Maybe you have heard about senior home services from a friend or your mother's doctor, and while you have some idea about what they might be able to do to help your mother out, you don't know enough about it to make a firm decision.
Below are some questions that you can ask of senior care providers or agencies to help you understand what they do and whether they are the right decision for your loved one.
What level of care can you provide at this time? When a family is looking to hire senior care services for their loved one, they tend to want to know the availability of the caregivers. In most cases, the availability is basically whatever is required. This could include a visit for an hour or two once or twice a week. For others, it could mean live in care.
What training do you provide for your caregivers? For agencies, training is usually an important factor in helping to ensure that the caregivers that work for them have the best experience and knowledge to provide the highest level of care to their patients. Not all agencies are the same, however, and some might not provide any training for their caregivers.
Do you conduct background checks on your employees? It's important to know the person that you'll end up having work with your loved one and most agencies conduct a series of background checks to ensure that the people working for them are honest, caring, and have the experience that your loved one requires.
How much is your service? Each agency is going to charge different amounts for the various levels of care that seniors often required.
What happens if there's a problem with a caregiver? As with any relationship in life, sometimes things don't work out the way that we want. You should understand that most caregivers are adored by their elderly patients, but if there's ever an issue, even a minor one, you should understand how the agency handles these situations. The ultimate goal is the safety and well-being of the patient.
What if my loved one needs more care in the future? In most cases, if you find that your mother requires more care or a different type of care in the future, the agency that you hire will be able to ensure that those needs are met.
The more questions that you ask of senior care agencies or organizations, the more you'll understand about it and this can help alleviate the more common concerns that people tend to have with regard to it.
If you have a loved one who could benefit from the help of home care services in Memorial, TX contact the caregivers at At Your Side Home Care. We help seniors and their families with many levels of home care service. Call (832) 271-1600 for more information.
For most of us, the word "home" evokes warm feelings of comfort, security and well-being. For older adults, home also means holding tight to cherished memories and maintaining self-esteem and independence. When illness, injury or age make life a little more challenging, remaining at home in a comfortable, familiar environment encourages recovery and enhances the quality of life. Home can be defined as a private residence, an independent or assisted living facility or even a short term stay in the hospital, we recognize the additional benefits provided by a personal, professional assistant.

Our Certified Nurse Aides, 24-Hour Live-in Assistants and Home Health Aides are available 24 hours a day, 365 days a year. We also provide the security and confidence of 24-hour Telephone Assistance, so fast, reliable help is always available when it's needed. To learn more about our homecare services see our homecare services page.

Different people need different levels of homecare. To meet the requirements of our clients, At Your Side Homecare maintains consistent staffing levels of caring professionals. Homecare service is available for as little as a few hours a week, or as many as 24 hours a day, seven days a week
Latest posts by Donna Wrabel, LMSW (see all)