Protein and the Elderly – What You Need to Know
Home Care in The Heights, TX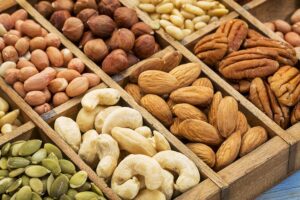 Protein. Many people know it as an important nutrient for athletes and body builders, but did you know that high amounts or protein can be great for everyone? Yes, even elderly adults should be getting the appropriate amount of protein every day. In fact, it is especially important for elderly adults to eat plenty of protein because as adults age they lose muscle mass and strength. Muscle loss can be concerning to elderly adults because the lack of strength often makes it harder for them to be independent, do activities that they enjoy, and they will often need more help doing daily tasks around the house. Fortunately, with a diet rich in protein, elderly adults can fight muscle loss and strength loss. Here are some examples of foods that are a great source of protein that elderly adults can eat to maintain healthy muscles and great health overall.
Meats and Fish
Most people know that meats are high in protein and should be a part of your daily meal plan. Elderly adults may get the best benefit from lean meats, however, because too much fat can be hard to digest and can leave you feeling sluggish. Some great examples of lean meats include chicken breast, turkey breast, lean pork chops, lean beef, and fish.
Beans
For those who have a hard time digesting meats or for those who live a vegetarian lifestyle, it can be hard to get adequate protein. Fortunately, beans are an excellent meatless source of protein. They are also very filling and high in fiber – an added bonus!
Nuts
Another great protein source for those who don't get enough meat in their diet is nuts. Snacking on nuts like almonds, walnuts, and peanuts throughout the day can help elderly adults increase their protein intake.
Dairy Foods
Milk, cheese, and yogurt (especially Greek yogurt) are excellent sources of protein and easy to incorporate into breakfast, lunch, and dinner.
Eggs
For a high protein breakfast, try some hard-boiled eggs or an omelet with cheese. Skip the greasy, fatty breakfast meats and opt for eggs for a low-fat source of protein. Elderly adults who are watching their cholesterol, however, should check in with their doctor about how many servings of eggs they should eat on a regular basis.
With a high-protein diet and regular physical exercise, elderly adults may find that they can slow down the loss of strength and muscle and greatly improve their quality of life.
If you or an aging loved one are considering home care in The Heights, TX, please call the caring staff at At Your Side Home Care. We will answer all of your senior care questions. Call today: (832) 271-1600.
For most of us, the word "home" evokes warm feelings of comfort, security and well-being. For older adults, home also means holding tight to cherished memories and maintaining self-esteem and independence. When illness, injury or age make life a little more challenging, remaining at home in a comfortable, familiar environment encourages recovery and enhances the quality of life. Home can be defined as a private residence, an independent or assisted living facility or even a short term stay in the hospital, we recognize the additional benefits provided by a personal, professional assistant.

Our Certified Nurse Aides, 24-Hour Live-in Assistants and Home Health Aides are available 24 hours a day, 365 days a year. We also provide the security and confidence of 24-hour Telephone Assistance, so fast, reliable help is always available when it's needed. To learn more about our homecare services see our homecare services page.

Different people need different levels of homecare. To meet the requirements of our clients, At Your Side Homecare maintains consistent staffing levels of caring professionals. Homecare service is available for as little as a few hours a week, or as many as 24 hours a day, seven days a week
Latest posts by Donna Wrabel, LMSW (see all)