Proper Care for any Senior Should Include Eye Exams
Senior Care in Memorial, TX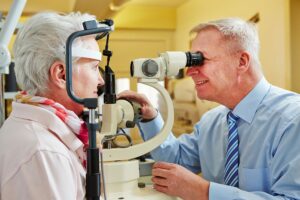 Never underestimate the ability of eye exams to help detect some very serious vision-related problems. As people get older, the risk of developing glaucoma, cataracts, macular degeneration, and other conditions will increase. Some of these serious vision problems, such as glaucoma, will not present with any outward symptoms until it is progressed by 80 percent within the eye.
Glaucoma is a condition in which pressure increases on the optic nerve. This pressure doesn't usually present with any pain, so the senior may never realize he or she has glaucoma until they begin to have difficulty seeing and visit their eye care professional for an exam.
Most eye care professionals recommend an eye exam every two years for adults, but this can increase to annually for seniors, especially those who are at an increased risk of developing glaucoma, macular degeneration, or other serious vision problems.
Senior care can entail many different aspects for physical health and well-being. It may entail regular doctors' appointments, examinations, a stress test to detect whether there are heart issues or blockages, eye exams, hearing tests, and much more.
Getting proper care for any senior should always include regular eye exams.
How to convince an elderly individual to get regular eye exams.
It can be difficult for some family members to convince their loved ones they need to keep on top of their physical health. This can be true especially if the senior has given up many things he or she used to enjoy doing, such as spending time with friends, playing golf, or doing other things. If they've needed to give up these activities because of medical emergencies such as a stroke or heart attack, major surgery, or other physical changes in their overall abilities, they may not see the point in keeping up with regular eye exams, hearing tests, and more.
They may be depressed, stressed, and anxious about their safety and well-being. They may also be thinking more about their mortality and feeling that the best years of their life are well behind them and there's really no point in taking care of themselves anymore.
With proper care, a person can avoid permanent and even total vision loss as a result of some of these serious vision related problems. Dealing with any type of vision loss can be an incredibly stressful thing for people of all ages and it can make safety and quality of life that much more important to address for the senior who is dealing with other serious health issues.
If you have a loved one who could benefit from the help of senior care in Memorial, TX contact At Your Side Home Care. We help seniors and their families with many levels of home care service. Call (832) 271-1600 for more information.
For most of us, the word "home" evokes warm feelings of comfort, security and well-being. For older adults, home also means holding tight to cherished memories and maintaining self-esteem and independence. When illness, injury or age make life a little more challenging, remaining at home in a comfortable, familiar environment encourages recovery and enhances the quality of life. Home can be defined as a private residence, an independent or assisted living facility or even a short term stay in the hospital, we recognize the additional benefits provided by a personal, professional assistant.

Our Certified Nurse Aides, 24-Hour Live-in Assistants and Home Health Aides are available 24 hours a day, 365 days a year. We also provide the security and confidence of 24-hour Telephone Assistance, so fast, reliable help is always available when it's needed. To learn more about our homecare services see our homecare services page.

Different people need different levels of homecare. To meet the requirements of our clients, At Your Side Homecare maintains consistent staffing levels of caring professionals. Homecare service is available for as little as a few hours a week, or as many as 24 hours a day, seven days a week
Latest posts by Donna Wrabel, LMSW (see all)