Promoting Senior Physical Fitness Through Elderly Care
Elderly Care in Garden Oaks, TX – Physical Activity is Essential for Overall Senior Health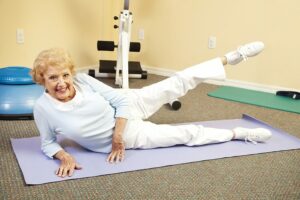 While many people might let it slip their minds, the truth of the matter is that everyone needs to stay physically fit and active. It doesn't even matter who you are, what you do, or why you do it. If you are able to stay in shape then you have already won a major battle. If you can keep to a regular schedule then you will find yourself even more happy and feeling even better overall. And, when it comes to seniors and elderly care, then you should definitely find a way to get active and stay fit right inside the home. Elderly care is not only something you can use to increase the lifestyle of your senior, but you can keep them healthy and feeling even better for the long haul.
If you can have an aide who will be there to watch your parents, simple things like rehabilitation are no problem at all. You might be worried otherwise if you don't have a professional keeping an eye on your aging senior. However, you can also find the ways to improve the strength and overall health with your seniors by having the in home elderly care that you need. Even little bits of exercise here and there can truly start to add up, and it will also be an activity as well as preparing for an even more active lifestyle in the long run.
If you can help your aging seniors start to get a little more activity in their lives now, then they can regain mobility and start to gain back their seldom used muscles. This will have significant long term benefits as no matter what they do, they will be able to have a more significant daily lives when things like even just moving around can become more and more easy.
When many folks think of elderly care, they start to think that it is just about having a presence in the home and not having someone who can truly improve the quality and the lifestyle of the seniors involved. Furthermore, it's starting to become the norm where seniors are able to be more and more active and they are able to get all of the physical attention that they deserve as well as the mental attention.
At the end of the day, which senior doesn't want to continue to stay active and feel young? When it comes to elderly care in the home your senior can be walking around and feeling good while you have all of the added benefits of feeling safe. In home elderly care doesn't have to be a anything other than finding a professional who will be the helping hand for your aging senior. You can almost think of them as your own personal trainer or fitness assistant as they start to recover, grow, and feel better in a much more comfortable lifestyle. Look into finding the best elderly care you can today for your aging senior.

If you have a loved one who could benefit from the help of elderly care in Garden Oaks, TX contact At Your Side Home Care. We help seniors and their families with many levels of home care service. Call (832) 271-1600 for more information.
For most of us, the word "home" evokes warm feelings of comfort, security and well-being. For older adults, home also means holding tight to cherished memories and maintaining self-esteem and independence. When illness, injury or age make life a little more challenging, remaining at home in a comfortable, familiar environment encourages recovery and enhances the quality of life. Home can be defined as a private residence, an independent or assisted living facility or even a short term stay in the hospital, we recognize the additional benefits provided by a personal, professional assistant.

Our Certified Nurse Aides, 24-Hour Live-in Assistants and Home Health Aides are available 24 hours a day, 365 days a year. We also provide the security and confidence of 24-hour Telephone Assistance, so fast, reliable help is always available when it's needed. To learn more about our homecare services see our homecare services page.

Different people need different levels of homecare. To meet the requirements of our clients, At Your Side Homecare maintains consistent staffing levels of caring professionals. Homecare service is available for as little as a few hours a week, or as many as 24 hours a day, seven days a week
Latest posts by Donna Wrabel, LMSW (see all)