Preparing the Home for Mom Who Suffered a Stroke
Elderly Care in Spring Valley, TX – Making Your Senior Parent's Home Safe for their Return from the Hospital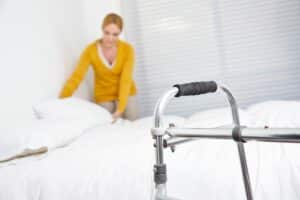 Your mother had a stroke. It was the middle of the afternoon when you received the phone call. You were at work and dropped everything you were doing and rushed over to the hospital. Maybe it took you an hour to get there, with the distance and traffic, and all you kept thinking about was what you are going to do to support her in her recovery.
Elderly care is the first thing you end up actually thinking about, even though you might not realize that's what it is called. Elderly care is about providing the right level support and assistance for elderly individuals at home, whether they are recovering from an illness, injury, surgery, or just dealing with the natural effects of time in the loss of strength in their legs and the rest of their body.
Once you arrived at the hospital, you were relieved to see that your mother was conscious. She was unable to talk at the moment, but she recognized you and seemed pleased that you were there. You also noticed a great deal of fear in her eyes.
Sitting down with the doctors, they explained that your mother was going to need a variety of support at home in the next several months, including a visiting nurse and a physical therapist. They also advised you to do certain things to get the home ready for when she returned after being released from the hospital.
The first thing they told you was that you may need to install a wheelchair ramp for her, depending on where she lives. They said that there are temporary

wheelchair ramps that you can re

nt from certain companies and they provided you with a few numbers to call.

They also explained that the height of her bed was going to be an issue. If she had a tall bed that would require her to normally climb up onto

it, that

could pose a serious risk of her falling out at some point.

They also advised you to have grab bars installed in the shower and around the toilet so that she could have the right level support with her basic care needs. They also encouraged you to get a shower seat for the tub.
These are just a few of the things to consider when an elderly parent is coming home from the hospital. Having their home ready for their return will make the transition easier, and hiring elderly care will take some of the burden off of you so you can focus on emotional support for your parent.
If you have a loved one who could benefit from the help of elderly care in Spring Valley, TX contact At Your Side Home Care. We help seniors and their families with many levels of home care service. Call (832) 271-1600 for more information.
For most of us, the word "home" evokes warm feelings of comfort, security and well-being. For older adults, home also means holding tight to cherished memories and maintaining self-esteem and independence. When illness, injury or age make life a little more challenging, remaining at home in a comfortable, familiar environment encourages recovery and enhances the quality of life. Home can be defined as a private residence, an independent or assisted living facility or even a short term stay in the hospital, we recognize the additional benefits provided by a personal, professional assistant.

Our Certified Nurse Aides, 24-Hour Live-in Assistants and Home Health Aides are available 24 hours a day, 365 days a year. We also provide the security and confidence of 24-hour Telephone Assistance, so fast, reliable help is always available when it's needed. To learn more about our homecare services see our homecare services page.

Different people need different levels of homecare. To meet the requirements of our clients, At Your Side Homecare maintains consistent staffing levels of caring professionals. Homecare service is available for as little as a few hours a week, or as many as 24 hours a day, seven days a week
Latest posts by Donna Wrabel, LMSW (see all)