Pets for Seniors Can Be a Great Idea
Elder Care in The Heights, TX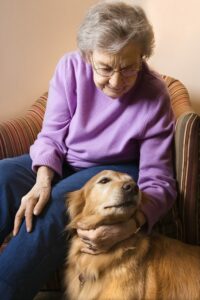 The problem with living a long life is dealing with the sadness that comes from seeing many others die before you. Take the real life example of Irene.
She was a schoolteacher. She taught the first grade for forty years, and then retired. She married her high school sweetheart and they stay married for over fifty years. When asked, "What was the happiest day in her life?" She instantly replied, "The day I married my husband John." When asked, "What was the saddest day in your life?" She said, "The day my husband John died."
Women Live Longer Than Men
Women have the wonderful ability to, on the average, outlive men. The irony of this is, in times before women's liberation, females were considered the "weaker" sex. There is nothing weaker about women. In fact, they are much stronger than men are. The sadness is that many females find themselves outliving their male partners by many years, five to six more years on average according to Scientific American, and sometimes decades.
Pets Are Great for Elders
In-home professional caregivers are often called upon to help the elderly care for their pets. This is an important part of senior care because pets are significant for seniors. Help Guide says that for many seniors, losing a pet may be extremely difficult because for those living independently, the pet may be their sole companion. Moreover, taking care of the pet gives an elderly person profound reasons for living and the motivation to get up every day and keep going.
Because pets like to go outside, they encourage seniors to enjoy nature, even something as simple as taking a romp in the back yard. Pets improve the emotional stability of seniors, especially when they have the support of professional in-home caregivers to help with the chores associated with pet ownership.
Just make sure to ask the in-home care placement agency for a "pet-friendly" caregiver when seeking help for senior or elder care at home.
Love for All
Irene died peacefully of natural causes at the age of 104. She knew the time was coming. She even had to forethought to say goodbye to all of her grandchildren and great-grandchildren. There was tremendous solace when the family found two photos on her bedside table. One of John, her beloved husband of over fifty years and the other of Sally, her dog companion for seventeen years towards the end of her life.
Irene was amazing. She out lived all her friends, her brothers and sisters, her husband, and even her dog which she received as a brand new puppy on her 80th birthday. Irene's professional caregivers helped take care of both Irene and the dog. Irene continued, until her death, to live in her own home.
The dog lived to be 19 years old, which in dog years is the equivalent to a human being living to be 133! There was no expectation that Irene would outlive the dog. The moral to this real story is that pets give our elders something special to live for and with a pet, elders can live longer, happier, lives.
Source
Why Women Live Longer than Men
http://www.scientificamerican.com/article/why-women-live-longer-than-men1/
Coping with a Pet Loss
http://www.helpguide.org/articles/grief-loss/coping-with-pet-loss.htm
If you have a loved one who could benefit from the help of elder care in The Heights, TX contact At Your Side Home Care. We help seniors and their families with many levels of home care service. Call (832) 271-1600 for more information.
For most of us, the word "home" evokes warm feelings of comfort, security and well-being. For older adults, home also means holding tight to cherished memories and maintaining self-esteem and independence. When illness, injury or age make life a little more challenging, remaining at home in a comfortable, familiar environment encourages recovery and enhances the quality of life. Home can be defined as a private residence, an independent or assisted living facility or even a short term stay in the hospital, we recognize the additional benefits provided by a personal, professional assistant.

Our Certified Nurse Aides, 24-Hour Live-in Assistants and Home Health Aides are available 24 hours a day, 365 days a year. We also provide the security and confidence of 24-hour Telephone Assistance, so fast, reliable help is always available when it's needed. To learn more about our homecare services see our homecare services page.

Different people need different levels of homecare. To meet the requirements of our clients, At Your Side Homecare maintains consistent staffing levels of caring professionals. Homecare service is available for as little as a few hours a week, or as many as 24 hours a day, seven days a week
Latest posts by Donna Wrabel, LMSW (see all)