Knowing when to Say 'No' to being a Caregiver for a Loved One in Spring Valley, TX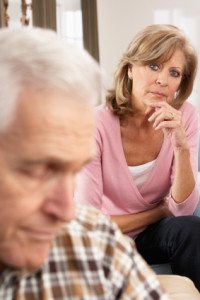 Diane wasn't interested in being a caregiver for her father. Her sisters wouldn't step up and help him when they could and she was just starting out on her new life with a new husband and baby on the way; she couldn't really afford the time or energy to devote to what her father needed.
Yet no matter how much she tried to convince the rest of her family that it wasn't something she could do, they wouldn't listen. One sister kept telling her that the job she had at the hospital was too grueling and that she was working all odd hours. Another sister moved out of state and wouldn't have been willing to help, even if she lived closer. Another sibling who lived with her father would disappear after work whenever something needed to be done for him.
Which left Diane feeling as though if she didn't do something to help him, then he was going to be injured or there would be some other type of medical emergency and then she would feel guilty about. Guilt was something that her family, especially her father, had always been good at delivering to her, usually when she could least afford it.
So, living just about ten minutes away, she reluctantly agreed, and it was the one decision in the past few years that she truly regretted. Not only did her relationship turn sour between her and her father, this episode caused tension between her and her sisters. They were fine, but Diane was resentful that they had all turned their back on their father, and her because she told them no initially, until they all came begging her for assistance.
In the end, Diane was a home care provider for her father and her health was taking a turn for the worse. She was getting home exhausted and unable to tend to the things that were important in her own life, such as helping around the house, caring for her baby, and more.
Diane learned, as so many people do, but too late, that sometimes you just need to know when to say 'no' to being a caregiver. Just because you can't provide the right level of care for a loved, it doesn't mean they're out of options. There are plenty of options, including professional in home care providers.
If you even feel pressured into becoming a caregiver, step back and remind yourself that there are other options, and many of those options can very well be much better than what you could provide.
If you have a loved one who could benefit from the help of caregivers in Spring Valley, TX contact the caregivers at At Your Side Home Care. We help seniors and their families with many levels of home care service. Call (832) 271-1600 for more information.
For most of us, the word "home" evokes warm feelings of comfort, security and well-being. For older adults, home also means holding tight to cherished memories and maintaining self-esteem and independence. When illness, injury or age make life a little more challenging, remaining at home in a comfortable, familiar environment encourages recovery and enhances the quality of life. Home can be defined as a private residence, an independent or assisted living facility or even a short term stay in the hospital, we recognize the additional benefits provided by a personal, professional assistant.

Our Certified Nurse Aides, 24-Hour Live-in Assistants and Home Health Aides are available 24 hours a day, 365 days a year. We also provide the security and confidence of 24-hour Telephone Assistance, so fast, reliable help is always available when it's needed. To learn more about our homecare services see our homecare services page.

Different people need different levels of homecare. To meet the requirements of our clients, At Your Side Homecare maintains consistent staffing levels of caring professionals. Homecare service is available for as little as a few hours a week, or as many as 24 hours a day, seven days a week
Latest posts by Donna Wrabel, LMSW (see all)