January is Adopt a Rescued Bird Month
Senior Care in Houston, TX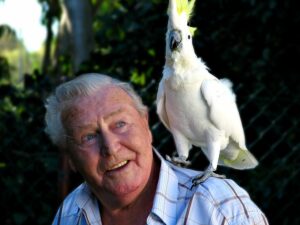 For elderly adults living at home, pets can be great companions and friends. Owning a pet had long been known to be therapeutic for elderly adults as they provide companionship, help their owners stay active, and help their owners fight loneliness. When most people think of adopting a pet, furry friends like dogs or cats are what typically come to mind. For elderly adults who are unable to adopt a dog or cat due to allergies, limited space, or other health reasons but still would like to have a pet companion, adopting a bird is an excellent idea. January is Adopt a Rescued Bird Month, it is a month dedicated to the awareness of the overwhelming number of pet birds that end up in animal shelters. Just like dogs and cats, pet birds like parrots, cockatoos, and cockatiels need good, loving homes, too! If your elderly loved one has shown interest in adopting a pet, consider some of these benefits of bird ownership:
Birds require less space than dogs or even cats. For elderly adults who live in a small home or apartment, a bird can make a great pet! Depending on the size of the bird (or birds), elderly adults will need to supply them with a cage that is big enough for them to move about in.
Birds need love and attention, but it is a different kind of attention than a dog or a cat may require. Birds will not need to be taken out for walks, out to go potty, or be trained to sit and stay. However, that doesn't mean that birds don't need attentive owners. In fact, pet birds thrive on interaction with their owners and will form a bond with them. Some pet birds can be taught words or phrases and their "conversations" can provide elderly adults as well as the bird with hours of enjoyment!
Birds are beautiful creatures that are fun to look at, observe, and interact with. Spending time with birds can help elderly adults lower their stress levels and reduce risk for depression. In addition to having lovely feathers in a rainbow of colors, pet birds are also very intelligent and they can be taught to do many tricks outside of just "talking".
If your elderly loved one is looking for companionship but feels unsure about taking on the responsibility of cat or dog ownership, a bird might be the perfect pet for them. Visit your local shelter this January to see the birds they have available for adoption and to learn more about owning a pet bird.
Source
http://birds.about.com/od/livingwithabird/tp/Top-Bird-Species-For-Older-Owners.htm
If you or an aging loved one are considering senior care in Houston, TX, please call the caring staff at At Your Side Home Care. We will answer all of your senior care questions. Call today: (832) 271-1600.
For most of us, the word "home" evokes warm feelings of comfort, security and well-being. For older adults, home also means holding tight to cherished memories and maintaining self-esteem and independence. When illness, injury or age make life a little more challenging, remaining at home in a comfortable, familiar environment encourages recovery and enhances the quality of life. Home can be defined as a private residence, an independent or assisted living facility or even a short term stay in the hospital, we recognize the additional benefits provided by a personal, professional assistant.

Our Certified Nurse Aides, 24-Hour Live-in Assistants and Home Health Aides are available 24 hours a day, 365 days a year. We also provide the security and confidence of 24-hour Telephone Assistance, so fast, reliable help is always available when it's needed. To learn more about our homecare services see our homecare services page.

Different people need different levels of homecare. To meet the requirements of our clients, At Your Side Homecare maintains consistent staffing levels of caring professionals. Homecare service is available for as little as a few hours a week, or as many as 24 hours a day, seven days a week
Latest posts by Donna Wrabel, LMSW (see all)