It's Tough to Be a Daughter and a Caregiver at the Same Time, Let Home Care Ease the Stress
The relationship between a mother and daughter is precious. There is a bond in this relationship that is unlike any other. If you have been trying to be the primary caregiver to your mother, however, you may have found that maintaining this close relationship can be difficult while also trying to provide for your mother's physical and medical needs. This in no way means that you don't love your mother, or don't want to provide care for her. This simply means that balancing the loving relationship between mother and daughter can be very tough when also trying to be an effective caregiver. It is much more important that you continue to be your mother's daughter. To take the pressure off of you, and allow you to continue enjoying the bond that you have with your mother, consider hiring a home care companion.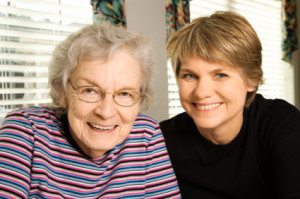 A home care companion understands how precious your relationship with your mother is. She knows that as her daughter you know your mother better than nearly anyone else in the world, and want what is best for her. The home care companion is not coming in to take your place with your mother, or remove your ability to provide care and loving support for her. She is there to be your ally in ensuring that your mother gets the best care that she needs.
Sometimes your mother may need care that will be uncomfortable for you to provide for her. Regardless of how close you are to your mother, it may be awkward for you or for her you take care of things such as bathing her or helping her in the bathroom. A home care companion is a trained professional that is able to take care of these needs in a compassionate and dignified way. The companion will also give you the opportunity to take some time for yourself when you need it, which is essential for any caregiver.
The most important thing that you can be for your mother is her daughter. This means spending time with her, enjoying activities together, talking together and just continuing the same loving relationship that you have had. By also being her caregiver you are ensuring that she is safe and healthy. This, however, can be very difficult. Hiring a home care companion ensures that you can focus on being a daughter while also feeling confident that your mother is properly cared for on a daily basis.
If you have a loved one who could benefit from the help of home care services in Piney Point, TX contact the caregivers at At Your Side Home Care. We help seniors and their families with many levels of home care service. Call (832) 271-1600 for more information.
For most of us, the word "home" evokes warm feelings of comfort, security and well-being. For older adults, home also means holding tight to cherished memories and maintaining self-esteem and independence. When illness, injury or age make life a little more challenging, remaining at home in a comfortable, familiar environment encourages recovery and enhances the quality of life. Home can be defined as a private residence, an independent or assisted living facility or even a short term stay in the hospital, we recognize the additional benefits provided by a personal, professional assistant.

Our Certified Nurse Aides, 24-Hour Live-in Assistants and Home Health Aides are available 24 hours a day, 365 days a year. We also provide the security and confidence of 24-hour Telephone Assistance, so fast, reliable help is always available when it's needed. To learn more about our homecare services see our homecare services page.

Different people need different levels of homecare. To meet the requirements of our clients, At Your Side Homecare maintains consistent staffing levels of caring professionals. Homecare service is available for as little as a few hours a week, or as many as 24 hours a day, seven days a week
Latest posts by Donna Wrabel, LMSW (see all)