In the Eye of the Beholder: How Photography can Benefit Seniors
Elderly Care in Hilshire Village, TX – Discover a Hobby that's Fun and Easy for Seniors to do from Home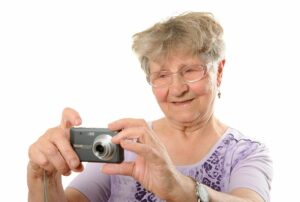 Photography is a form of art that appeals to millions of people around the world. For elderly individuals require care, they may be limited on the type of activities they can take part in, but photography is one that almost anybody, regardless of disability or physical limitations, can do.
Art is always considered to be measured in the eye of the beholder. This means that one person may see another individual's work of art and not considered to be very good while another may see it as being brilliant. Photography is about seeing the world through a different perspective. 
It doesn't take much to get started in photography. For those providing elder care services to loved ones, even the elderly care provider doesn't need to have any direct experience with photography to suggest this as an activity to do. All they need is a camera and some desire to be imaginative.
There are plenty of inexpensive digital cameras that can capture images of all types. The senior doesn't even have to leave home to begin experimenting with photography. Just look around the house and anybody can see potential images of artwork just laying around. Even average, ordinary products could potentially provide an artistic angle for the photographer.
What type of camera equipment is best?
Essentially, it all depends upon the budget of the senior. If a loved one is providing the elder care, they may have a camera that the senior can borrow to practice with, or may help them purchase an inexpensive yet quality camera.
If the senior has a camera and it is an old one, such as using traditional film, you need to make sure that there are places where you can pick up film and have it developed that are relatively inexpensive. Digital cameras allow the senior to take pictures and see the results right away so that they can make adjustments on settings and even the angle of the shot.
12 megapixel digital cameras and above are optimal. However, anything over four megapixels would be okay to get the senior started.
As a part of elderly care, the caregiver may want to look into continuing adult education classes in the area that are related to photography. They can then explain that these classes are taking place and see if the senior has any interest in attending. Always remember, it is up to the elderly individual to determine what activities he or she wants to try.
If you have a loved one who could benefit from the help of elderly care in Hilshire Village, TX contact At Your Side Home Care. We help seniors and their families with many levels of home care service. Call (832) 271-1600 for more information.
For most of us, the word "home" evokes warm feelings of comfort, security and well-being. For older adults, home also means holding tight to cherished memories and maintaining self-esteem and independence. When illness, injury or age make life a little more challenging, remaining at home in a comfortable, familiar environment encourages recovery and enhances the quality of life. Home can be defined as a private residence, an independent or assisted living facility or even a short term stay in the hospital, we recognize the additional benefits provided by a personal, professional assistant.

Our Certified Nurse Aides, 24-Hour Live-in Assistants and Home Health Aides are available 24 hours a day, 365 days a year. We also provide the security and confidence of 24-hour Telephone Assistance, so fast, reliable help is always available when it's needed. To learn more about our homecare services see our homecare services page.

Different people need different levels of homecare. To meet the requirements of our clients, At Your Side Homecare maintains consistent staffing levels of caring professionals. Homecare service is available for as little as a few hours a week, or as many as 24 hours a day, seven days a week
Latest posts by Donna Wrabel, LMSW (see all)