Easing An Aging Parent Into In-Home Care in Houston TX
Easing An Aging Parent Into In-Home Care in Houston TX
In-home care can be a great way to facilitate a comfortable lifestyle for your aging parent. A reluctant parent is facing a serious change in the way they have conducted their life. They have spent several decades juggling work, caring for their family, and fighting through the obstacles of life. Now the parent is facing a situation that they are likely to interpret as a loss of capability and independence. It can foster resentment, anger, and a blind refusal. Understanding the psychology behind their reluctance or refusal gives us a stronger angle to facilitate a clearer understanding.
*The People They Love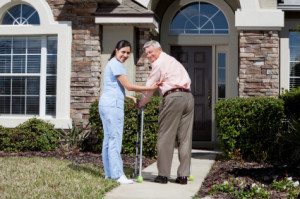 A common way to avoid conflict is to avoid confrontational "yous". "You need" or "you should" automatically throw up defensive walls no matter what the situation is. Instead, shift the focus to the people they love that are trying to keep up for them. Let your parent know how much easier it will be on their loved ones if they can accept a little assistance through in-home care. A child trying to forge a career, raise a family, and deal with the challenges of life is going to have a very difficult time keeping up with the needs of an aging parent. A parent's spouse can be in a similar situation.
*A Matter Of Privacy
Privacy may turn out to be another significant hurdle. No one feels comfortable letting a complete stranger into the most intimate aspects of their life and home. A parent that could benefit from in-home care can be eased into the process to provide some familiarity. A care provider can start off helping with meals, grocery shopping, transportation, and other noninvasive activities. That will give your parent time to get acclimated to the provider and situation. Familiarity will hopefully ease your parent into accepting other help as the need arises. The only downside is that industry turn-over may have different people providing care.
*Patience Is A Virtue
Easing a parent into assistance through home care will come down to understanding their reluctance. Keep the lines of communication open and urge the parent to talk about their misgivings. The situations addressed in this article are just some of the most common that will hopefully help get to the root of the problem. Be certain to give them time to think and process conversations. Accepting in-home care assistance is a major decision for your parent. Don't expect them to make it immediately or overnight.
For more information regarding in-home care for your aging loved one, contact At Your Side Home Care. We are dedicated to providing quality and affordable care in the Houston area. Fill out our web form or call 832-271-1600.
For most of us, the word "home" evokes warm feelings of comfort, security and well-being. For older adults, home also means holding tight to cherished memories and maintaining self-esteem and independence. When illness, injury or age make life a little more challenging, remaining at home in a comfortable, familiar environment encourages recovery and enhances the quality of life. Home can be defined as a private residence, an independent or assisted living facility or even a short term stay in the hospital, we recognize the additional benefits provided by a personal, professional assistant.

Our Certified Nurse Aides, 24-Hour Live-in Assistants and Home Health Aides are available 24 hours a day, 365 days a year. We also provide the security and confidence of 24-hour Telephone Assistance, so fast, reliable help is always available when it's needed. To learn more about our homecare services see our homecare services page.

Different people need different levels of homecare. To meet the requirements of our clients, At Your Side Homecare maintains consistent staffing levels of caring professionals. Homecare service is available for as little as a few hours a week, or as many as 24 hours a day, seven days a week
Latest posts by Donna Wrabel, LMSW (see all)