How Well Do Your Elderly Relatives Get Around?
Home Care in Spring Valley, TX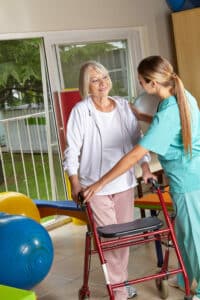 As our elderly relatives age, it's more difficult for them to get around. Many loved ones deal with this by staying home more often or even by limiting what they do at home. For their own safety, family caregivers need to get a handle on how well their elderly loved ones are getting around so they can provide help when needed.
Issues Walking
It's not uncommon to suddenly realize that you haven't noticed or seen your elderly loved one up and moving around in a while. Maybe you're only able to visit for an hour or so at a time, or perhaps you live farther away. Regardless, it's second nature when we do have some time to spend with elderly relatives that we hop up and do things for them while we're there. It's part of wanting to take care of them. But have you noticed how well your loved one walks? Is she reluctant to get up and walk, or are her steps halting? It's really important to be able to see for yourself how well she's walking so you can determine if she needs some extra help from elder care services or even a trip to her doctor for further evaluation.
Chronic Problems
Arthritis and muscle weakness are just two of the chronic issues that can make getting around difficult for elderly loved ones. Others that can cause problems for elderly relatives include heart disease, COPD, or even injuries from previous falls. If your loved one is dealing with any of these types of issues, it's already going to be difficult for her to navigate even her home safely. Make sure that you keep up with how she's feeling regularly and whether or not her underlying conditions are worsening. Even if she's not a fan of full-time home care assistance, providing those types of services when she's doing more poorly than usual can be just what she needs.
Avoiding Falls
Falling is a tremendous source of concern for elderly loved ones. Besides broken hips or other bones, there's always the danger that your loved one may find herself trapped for a period of time and unable to help herself. If your elderly relative is increasingly finding it difficult to get around properly, it's important to check in as often as you can. Whether that means that you're there more often or you have an elder care provider who can stop by and offer assistance, everyone involved will have greater peace of mind.
Sometimes trouble getting around adequately is just temporary, but it's important to know when it's time to offer more help more often.
Source
http://www.todaysgeriatricmedicine.com/archive/031912p8.shtml
http://www.cdc.gov/HomeandRecreationalSafety/Falls/adultfalls.html
If you have a loved one who could benefit from the help of home care in Spring Valley, TX contact At Your Side Home Care. We help seniors and their families with many levels of home care service. Call (832) 271-1600 for more information.
For most of us, the word "home" evokes warm feelings of comfort, security and well-being. For older adults, home also means holding tight to cherished memories and maintaining self-esteem and independence. When illness, injury or age make life a little more challenging, remaining at home in a comfortable, familiar environment encourages recovery and enhances the quality of life. Home can be defined as a private residence, an independent or assisted living facility or even a short term stay in the hospital, we recognize the additional benefits provided by a personal, professional assistant.

Our Certified Nurse Aides, 24-Hour Live-in Assistants and Home Health Aides are available 24 hours a day, 365 days a year. We also provide the security and confidence of 24-hour Telephone Assistance, so fast, reliable help is always available when it's needed. To learn more about our homecare services see our homecare services page.

Different people need different levels of homecare. To meet the requirements of our clients, At Your Side Homecare maintains consistent staffing levels of caring professionals. Homecare service is available for as little as a few hours a week, or as many as 24 hours a day, seven days a week
Latest posts by Donna Wrabel, LMSW (see all)