Cleaning Tips to Help You Keep Your Loved One's Home Smelling Fresh
Homecare in Houston TX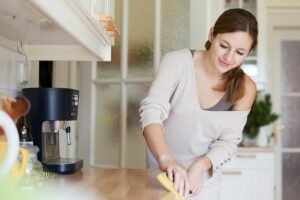 As a caregiver, one of your big responsibilities is probably helping to keep your loved one's home clean and free of germs. Keeping a clean space for your elderly loved one is important because it can reduce dirt, germs, and viruses that can lead to illnesses and allergy flare-ups. However, some cleaning products can also trigger allergy and asthma flares in elderly adults and one of the biggest culprits is air fresheners. Everybody wants a home that smells fresh and clean, but air freshener sprays, plug ins, and burners can irritate your loved one's breathing. To eliminate odors in the home, remove the air fresheners and try some of these natural solutions.
In the Kitchen Sink
When the garbage disposal in the sink collects too much food and debris, it can often start to have an odor. To eliminate this odor, try running a baking soda and vinegar mixture and/or a half of a lemon down the disposal. These items will help to clean it and remove and odors.
In the Garbage Can
Since the garbage can gets filled with trash, it can begin to smell very quickly. It is often impractical to try and take out the garbage each time you throw something away that could cause a smell, so it is a good idea to be proactive. Take out the trash when it is full and be sure to clean the inside of the trash can about once a week. In between cleanings, place a few citrus peels in the bottom of the trash can outside of the inner bag.
In the Laundry Room
For towels that have developed a bit of a mildew smell, try using white vinegar in place of fabric softener during the rinse cycle. If the washing machine itself has developed an odor, run a cycle without clothing in it using hot water and white vinegar. It is helpful to stop the machine mid-cycle so that the vinegar has time to break down the dirt and detergent residue and then restart it after about an hour.
In the Refrigerator
An old-fashioned trick that really works is to keep a box of opened baking soda in the refrigerator and replace it each month. It is also important to wipe down the surfaces of the refrigerator regularly and remove spoiled food.
Source: http://www.today.com/series/nailing-it/take-out-trash-stench-diy-ways-get-rid-home-odors-t5486
If you or an aging loved one are considering homecare in Houston, TX, please call the caring staff at At Your Side Home Care. We will answer all of your senior care questions. Call today: (832) 271-1600.
For most of us, the word "home" evokes warm feelings of comfort, security and well-being. For older adults, home also means holding tight to cherished memories and maintaining self-esteem and independence. When illness, injury or age make life a little more challenging, remaining at home in a comfortable, familiar environment encourages recovery and enhances the quality of life. Home can be defined as a private residence, an independent or assisted living facility or even a short term stay in the hospital, we recognize the additional benefits provided by a personal, professional assistant.

Our Certified Nurse Aides, 24-Hour Live-in Assistants and Home Health Aides are available 24 hours a day, 365 days a year. We also provide the security and confidence of 24-hour Telephone Assistance, so fast, reliable help is always available when it's needed. To learn more about our homecare services see our homecare services page.

Different people need different levels of homecare. To meet the requirements of our clients, At Your Side Homecare maintains consistent staffing levels of caring professionals. Homecare service is available for as little as a few hours a week, or as many as 24 hours a day, seven days a week
Latest posts by Donna Wrabel, LMSW (see all)