Home Care Services in Spring Valley, TX: Kinds of Help
Many seniors find that they need help with daily tasks as they grow older. Families may have a lot of questions about what kinds of things an in-home care provider would be willing to do to help out their elderly family member. The following lists will give you an idea of some of these things, but it is by no means an all-encompassing list. If there are things your elderly family member needs help with that aren't on this list, feel free to contact our agency to find out more.
Who might be interested in home care service?
An elderly person returning from hospital who needs short-term care until their recovery is complete.
A senior with long-term challenges who is able to stay in their own home as long as they have a little bit of help.
Someone with a terminal illness who desires to stay at home as long as they can.
An elder who is being taken care of by family caregivers, who need relief or respite from time to time.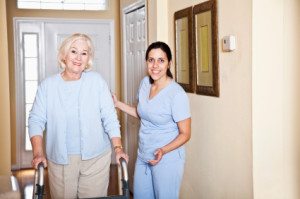 What kind of help does a home care service provide?
Reminders to take medication
Preparing meals, helping the elderly adult eat if necessary, and clean-up after the meal
Bathing and showering and personal hygiene
Hair care and shaving with electric razor
Skin care and taking care of nails
Mouth care and taking care of dentures
Toileting and incontinence care
Encouragement to take part in mild exercise program
Picking up prescriptions
Monitoring special or diabetic diets
Help with the morning wake-up
Companionship during hospital stays
Respite for family caregivers
Laundry, ironing and mending
Light housekeeping including organizing
Meal planning and cooking
Monitoring proper nutrition and adequate hydration
Grocery and personal shopping
Transportation to appointments or social events
Flower and pet care
Dropping off and picking up dry cleaning
Helping to read and sort mail and supervise bill paying
Assisting with light entertaining
Answering the phone and door
Clean refrigerator and cupboards
Rent and play movies for entertainment
Escort to religious services
Playing cards and games for companionship and enjoyment of the senior
Maintaining a family scrapbook
The family may request that some things be done in a certain way; for example encouraging the elderly loved one to eat all her vegetables, getting a prescribed amount of physical activity per week, etc. The elderly adult and her family should sit down and decide what guidelines they want the caregiver to follow so there can be clear lines of communication and understanding for all involved.
If you have a loved one who could benefit from the help of home care services in Spring Valley, TX contact the caregivers at At Your Side Home Care. We help seniors and their families with many levels of home care service. Call (832) 271-1600 for more information.
For most of us, the word "home" evokes warm feelings of comfort, security and well-being. For older adults, home also means holding tight to cherished memories and maintaining self-esteem and independence. When illness, injury or age make life a little more challenging, remaining at home in a comfortable, familiar environment encourages recovery and enhances the quality of life. Home can be defined as a private residence, an independent or assisted living facility or even a short term stay in the hospital, we recognize the additional benefits provided by a personal, professional assistant.

Our Certified Nurse Aides, 24-Hour Live-in Assistants and Home Health Aides are available 24 hours a day, 365 days a year. We also provide the security and confidence of 24-hour Telephone Assistance, so fast, reliable help is always available when it's needed. To learn more about our homecare services see our homecare services page.

Different people need different levels of homecare. To meet the requirements of our clients, At Your Side Homecare maintains consistent staffing levels of caring professionals. Homecare service is available for as little as a few hours a week, or as many as 24 hours a day, seven days a week
Latest posts by Donna Wrabel, LMSW (see all)