Home Care Services in Memorial, TX: Great Ways to Improve Your People Skills
Everyone could use some fine-tuning on their ability to talk and interact with other people. Especially in the home care services profession, good people skills will be of great benefit to you. It doesn't hurt to practice some of these every day:
Speak with clarity
Make the most of your conversations
Hone your communication skills
Always consider the other person first
Beautify your language
Use witty comments where applicable and appropriate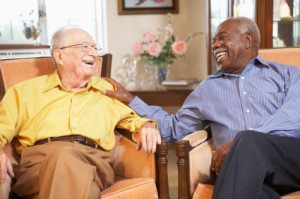 Have something important to say
Sometimes it's more important for the other person to hear it than for you to say it
Speak with a reason; listen to others with conviction
Listen with an open mind
Try not to judge the comments of others
Listen with compassion
Don't jump to conclusions
Ask questions when appropriate
Be understanding of others
People have different cultural backgrounds
We are all different and those differences should be celebrated not shunned
You can still work together with someone even if you disagree in theory
Be a good influence on your peers
Learn how to be persuasive not pushy
Give others the opportunity to be good listeners
It's better to convince someone than to gain control over them
Resolve conflicts
Be cooperative in the effort to fix problems with someone else
Even when you think you're right, give them the chance to be right – at least in part – to create a win-win situation for both of you
Remain cool and collected
Don't let emotions destroy logic
If you are losing your cool, walk away and resume the conversation at some later time when you can be cool and collected
Don't let change scare you
Be willing to change your view
Keep an open mind at all times
Listen to the other person even if you don't agree
Use a back-up plan
Be prepared for anything that might pop up in life and relationships
You won't be caught off guard if you think out the pros and cons of a situation before you find yourself put on the spot
Use all your people skills whenever necessary to maintain good relationships with people.
Remember that sometimes other people may have had a bad day. Try not to judge their actions or words too hastily. Maybe they just need an extra dose of patience and compassion.
If you have a loved one who could benefit from the help of home care services in Memorial, TX contact the caregivers at At Your Side Home Care. We help seniors and their families with many levels of home care service. Call (832) 271-1600 for more information.
For most of us, the word "home" evokes warm feelings of comfort, security and well-being. For older adults, home also means holding tight to cherished memories and maintaining self-esteem and independence. When illness, injury or age make life a little more challenging, remaining at home in a comfortable, familiar environment encourages recovery and enhances the quality of life. Home can be defined as a private residence, an independent or assisted living facility or even a short term stay in the hospital, we recognize the additional benefits provided by a personal, professional assistant.

Our Certified Nurse Aides, 24-Hour Live-in Assistants and Home Health Aides are available 24 hours a day, 365 days a year. We also provide the security and confidence of 24-hour Telephone Assistance, so fast, reliable help is always available when it's needed. To learn more about our homecare services see our homecare services page.

Different people need different levels of homecare. To meet the requirements of our clients, At Your Side Homecare maintains consistent staffing levels of caring professionals. Homecare service is available for as little as a few hours a week, or as many as 24 hours a day, seven days a week
Latest posts by Donna Wrabel, LMSW (see all)