Home Care Services in Hunters Creek, TX: 7 Ways to Make a Family Memory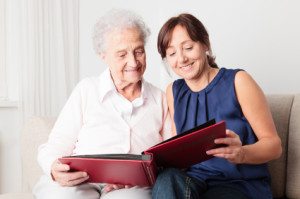 Memories with multiple generations of family members can be enjoyed year round. With most of the country starting to enjoy spring weather, it's hard not to think about some outdoor activities that can be done once it's warm enough to enjoy the outdoors. The following list contains both indoor and outdoor activities so you have something to choose from no matter the season.
Scrapbooking – almost everyone knows what this is. Gather some photos, colored paper, stickers and fancy scissors and family members can sit down for a good hour or more of fun. There are so many ways to embellish a photo and once done, the scrapbooking pages can be put in a binder for everyone to enjoy.
Memory box – the memory box is especially good for seniors who have dementia or Alzheimer's disease because using old photographs helps them remember things from the past. Since dementia steals short-term memory, seniors can gain a lot of security in relishing old memories. Basically you choose some items to put in a box. You or your loved one's in-home care provider can make sure there's a nice box available with a lid that lifts off easily. Help your elder choose some memory items to put in there, like a photo of her family, a piece of jewelry, a favorite book, stuffed animals, souvenirs from trips she took etc.
Family legacy – this is an opportunity for an elder to help make a memory for their posterity which would be remembered as a legacy. One example is to create a collection of favorite family recipes. If someone is able to take all the tattered, torn and stained recipes and enter them into the computer, they can be printed off and given to family members. Everyone will be delighted to get grandma's famous muffin recipe as well as many others.
Play horseshoes – this activity can be enjoyed by young and old alike. You will need to choose a nice warm day; not too hot and not too windy. You will need a horseshoe pit and the necessary equipment. Fresh air and a little bit of exercise make this an ideal outing. Bring a camera and take lots of pictures to be enjoyed later.
Go to the park – something as simple as going to the park, with or without a picnic lunch. This is one idea you'll have to plan on doing when it gets warmer.
Family dinner and dance – this is kind of like a mini reunion, but held indoors. You can usually book or rent a community church or hall to have a nice place to get the family together. Any DJ's in the family? Add a family dance to appeal to all ages.
Make sure to take lots of pictures; it isn't that often that everyone can get together.
Old and new games – this can be played even with a really small group. If some of the grandkids come in to visit, board games or card games played around the table are fun and help everyone to visit and laugh as they spend time together.
If you have a loved one who could benefit from the help of home care services in Hunters Creek, TX contact the caregivers at At Your Side Home Care. We help seniors and their families with many levels of home care service. Call (832) 271-1600 for more information.
For most of us, the word "home" evokes warm feelings of comfort, security and well-being. For older adults, home also means holding tight to cherished memories and maintaining self-esteem and independence. When illness, injury or age make life a little more challenging, remaining at home in a comfortable, familiar environment encourages recovery and enhances the quality of life. Home can be defined as a private residence, an independent or assisted living facility or even a short term stay in the hospital, we recognize the additional benefits provided by a personal, professional assistant.

Our Certified Nurse Aides, 24-Hour Live-in Assistants and Home Health Aides are available 24 hours a day, 365 days a year. We also provide the security and confidence of 24-hour Telephone Assistance, so fast, reliable help is always available when it's needed. To learn more about our homecare services see our homecare services page.

Different people need different levels of homecare. To meet the requirements of our clients, At Your Side Homecare maintains consistent staffing levels of caring professionals. Homecare service is available for as little as a few hours a week, or as many as 24 hours a day, seven days a week
Latest posts by Donna Wrabel, LMSW (see all)