Home Care Services in Hilshire Village, TX: The Errand of Angels
As a caregiver, sometimes you just wish an angel could come and take over for a while. You may think no one else understands or that no one else could possibly take over for you. Those angels really are out there. If they are not within your family or circle of friends, they are most certainly found in agencies that provide in home care service.
These in home care providers are little angels who want to look after your loved one's needs and are very capable of doing so. They will meet with you; if necessary consult with your elderly parent's physician in regards to care, meet with social workers who may be involved, etc.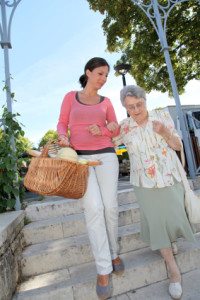 They will develop a plan that is individualized to the needs of your loved one. These caregivers are trained, experienced and compassionate. You can even choose which one is most suitable for your loved one.
Now your wishes of someone to help you out really can come true. Some of the services that a person can expect from in home care include:
Assistance with daily hygiene
Preparation of meals and monitoring of the diet
Light housekeeping
Necessary errands and shopping trips
Joyful, happy companionship
Morning, mid-day and evening care is available
A great source of respite care for the family caregivers
Care is available on weekends and holidays as well
Care can be either long term or temporary, whatever your needs are
Live-in caregivers are available
This is a great resource for the family caregiver. Even if it's part-time or temporary, it can provide a much-needed respite. It's a good way to ensure beloved family members are taken care of while the family caregiver goes on summer vacation. Or maybe she just needs a couple of days off per week.
Or the home care services can even be full-time, freeing up the caregiver to take care of her job and children.
Family caregivers can be under tremendous stress and they need to have time for themselves as well. When they have someone they can trust to take good care of their loved one, it lightens the load they are carrying. The family caregiver is better able to take care of herself when she has some respite from caregiving. Caregiver burnout is one of the risks of caregiving. Home care services provide the stand-in she needs so she can avoid burnout and keep her energy levels and emotional well-being at a healthy level.
If you have a loved one who could benefit from the help of home care services in Hilshire Village, TX contact the caregivers at At Your Side Home Care. We help seniors and their families with many levels of home care service. Call (832) 271-1600 for more information.
For most of us, the word "home" evokes warm feelings of comfort, security and well-being. For older adults, home also means holding tight to cherished memories and maintaining self-esteem and independence. When illness, injury or age make life a little more challenging, remaining at home in a comfortable, familiar environment encourages recovery and enhances the quality of life. Home can be defined as a private residence, an independent or assisted living facility or even a short term stay in the hospital, we recognize the additional benefits provided by a personal, professional assistant.

Our Certified Nurse Aides, 24-Hour Live-in Assistants and Home Health Aides are available 24 hours a day, 365 days a year. We also provide the security and confidence of 24-hour Telephone Assistance, so fast, reliable help is always available when it's needed. To learn more about our homecare services see our homecare services page.

Different people need different levels of homecare. To meet the requirements of our clients, At Your Side Homecare maintains consistent staffing levels of caring professionals. Homecare service is available for as little as a few hours a week, or as many as 24 hours a day, seven days a week
Latest posts by Donna Wrabel, LMSW (see all)