September is Mold Awareness Month
Home Care in River Oaks TX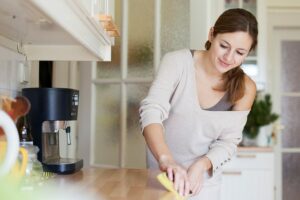 If your are a caregiver for an elderly loved one who lives at home, you probably make it a goal to help them to keep their house clean and tidy. A clean home not only looks pleasant, it can also be a healthier environment for your loved one. Of course, keeping a house clean and safe means keeping harmful mold at bay. September is observed as Mold Awareness Month to help inform the public about the health consequences of mold in the home and what you can do to keep it under control. Read on for some important information about mold that all caregivers should know.
Mold is natural, why is it bad?
Mold naturally grows in moist, damp environments, both indoors and outdoors. However, many people are sensitive to mold or even allergic to it. For these people, exposure to mold can lead to nasal congestion/runny nose, wheezing, coughing, throat irritation, eye irritation, and even skin irritation. If mold is present in the home and not eliminated, your loved one can suffer these symptoms persistently without relief. In addition, the presence of mold can be dangerous for those with chronic lung illnesses as mold can lead to lung infections. Mold is also known to trigger asthma symptoms.
Is there mold in my loved one's home?
Mold loves to grow in damp environments both indoors and out. Mold that naturally grows outside can come into the home on shoes and clothing or through open windows and doors. Mold can grow inside the home anywhere where there is moisture such as in the shower, in a damp basement, or under a leaky sink.
How can I control the mold in my loved one's home?
If you do see mold, you will need to eliminate it. Many cleaning products are designed to kill mold and can be used in showers tubs, on floors, and on any hard surfaces. In addition a solution of 1 cup bleach and 1 gallon of water can be used to kill mold. Always be sure keep the home well ventilated if you are cleaning with bleach or any other cleaning products. In addition to cleaning up the mold, it is essential to prevent future mold growth by cutting down on moisture in the home. Be sure that bathrooms are well ventilated. In addition, it is a great idea to run a dehumidifier in damp areas of the home such as in the basement.
Source: http://www.cdc.gov/mold/dampness_facts.htm
If you or an aging loved one are considering home care in River Oaks, TX, please call the caring staff at At Your Side Home Care. We will answer all of your senior care questions. Call today: (832) 271-1600.
For most of us, the word "home" evokes warm feelings of comfort, security and well-being. For older adults, home also means holding tight to cherished memories and maintaining self-esteem and independence. When illness, injury or age make life a little more challenging, remaining at home in a comfortable, familiar environment encourages recovery and enhances the quality of life. Home can be defined as a private residence, an independent or assisted living facility or even a short term stay in the hospital, we recognize the additional benefits provided by a personal, professional assistant.

Our Certified Nurse Aides, 24-Hour Live-in Assistants and Home Health Aides are available 24 hours a day, 365 days a year. We also provide the security and confidence of 24-hour Telephone Assistance, so fast, reliable help is always available when it's needed. To learn more about our homecare services see our homecare services page.

Different people need different levels of homecare. To meet the requirements of our clients, At Your Side Homecare maintains consistent staffing levels of caring professionals. Homecare service is available for as little as a few hours a week, or as many as 24 hours a day, seven days a week
Latest posts by Donna Wrabel, LMSW (see all)