Home Care in Hilshire Village, TX – Technology Helping Seniors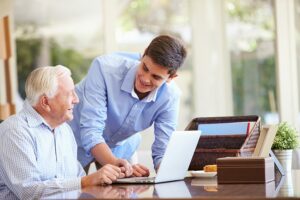 Technology is a part of our everyday lives. Television, computers, phones, and even microwaves are various types of technology. It can be hard to keep up since technology is one of those fields that keeps rapidly changing. Older men and women may have difficulty understanding this, but it doesn't have to be an enigma to them anymore. Younger men and women, especially in-home care providers, can show seniors how to properly utilize technology. Technology can help your elderly loved one.
Hearing aids are an example of technology. Without them, seniors with hearing loss wouldn't be able to hear what someone on the phone is saying or someone in public talking to them. Today, these devices are getting smaller and smaller and can be almost invisible.
Webcams are amazing pieces of technology for communication purposes. Video chat services such as Skype and

others

like it

can make it easier for

elder

s to talk to family members. For example, if an elderly couple in Florida wants to talk to their son in Arizona, they can set up an online call. It's faster than letters, doesn't require a phone, and one can see the person instead of only hearing their voice. Since it is online, an internet connection is needed. Webcams (with built-in microphones) are very useful.

Global Positioning Systems, or GPS, are great for traveling. Instead of video chatting, perhaps the elderly couple in Florida wants to visit their son and his family in Arizona. The GPS can give them step-by-step directions with voice recognition, sound, and a map for a screen. It tells them mileage, time, and places to stop at for

bathroom breaks and eating. It decreases the chance of getting lost and gives more information than a simple paper map.

Your elderly loved one may not be up to travelling great distances any more, but some family members from far away might want to travel to your loved one, using this technology for a safer road trip.

Tablets can be a great tool to use for seniors. One reason that comes to mind is medication and health reminders. Not only can seniors receive health information, but they can receive alerts to remind them when to take their meds. A second reason is that tablets can hold many games and other resources. Games can help them keep their brains active and entertained. Also, photos and video can be stored for viewing anytime.
These amazing pieces of technology can make lives easier. It allows communication, traveling, hearing, and learning to be more readily available. With these tools, you can make the daily life flow more smoothly because of their convenience. Especially with email and video chat so your loved one can connect with other family who live far away.
If you have a loved one who could benefit from the help of home care in Hilshire Village, TX contact the caregivers at At Your Side Home Care. We help seniors and their families with many levels of home care service. Call (832) 271-1600 for more information.
For most of us, the word "home" evokes warm feelings of comfort, security and well-being. For older adults, home also means holding tight to cherished memories and maintaining self-esteem and independence. When illness, injury or age make life a little more challenging, remaining at home in a comfortable, familiar environment encourages recovery and enhances the quality of life. Home can be defined as a private residence, an independent or assisted living facility or even a short term stay in the hospital, we recognize the additional benefits provided by a personal, professional assistant.

Our Certified Nurse Aides, 24-Hour Live-in Assistants and Home Health Aides are available 24 hours a day, 365 days a year. We also provide the security and confidence of 24-hour Telephone Assistance, so fast, reliable help is always available when it's needed. To learn more about our homecare services see our homecare services page.

Different people need different levels of homecare. To meet the requirements of our clients, At Your Side Homecare maintains consistent staffing levels of caring professionals. Homecare service is available for as little as a few hours a week, or as many as 24 hours a day, seven days a week
Latest posts by Donna Wrabel, LMSW (see all)