Get Affairs in Order Before Elder Care is Needed in Houston, TX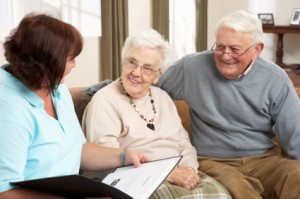 You spend much of your adult life taking care of children, paying a mortgage, and then saving for retirement. You plan ahead and the more attention that you give to your long-term needs, the easier it will generally be once you reach that milestone in your life. However, what about getting all of your affairs in order in case you reach a point where you need some form of elder care.
No one wants to really think about the bad things in life. However, if you have a life insurance policy, you were thinking about the prospect that you won't be around forever and that your family could use a bit of a cushion in the event that your last day was any moment.
As we age, our body begins to break down. It's usually a slow process and there is time to consider alternatives to help ensure that you have the best care and that you're not placing an undue burden on your family.
However, what would you do, or what would your family do, if you had a stroke or heart attack or other sudden illness that left you unable to tend to your own care for any given length of time? Would all of your affairs be in order? Would your family know about your finances, insurance and other information? If not, then it's time to get those affairs in order now.
Write down all of your bank account information, including the locations of the banks.
Keep your insurance information in one handy location. This should include any health and life insurance policies that you may have.
Gather the deeds to all your property, including your house, cars, and anything else you own.
If you have a loan, make sure that it's clear how much is owed and who payments need to be made to.
Have your Social Security and Medicare numbers readily available.
Update your will and keep it in a safe place.
If you have a safety deposit box, make sure that you authorize someone you trust to access it in the event that you cannot do it yourself.
File a durable power of attorney. This would give someone you love and trust the ability to access money and other legal information and represent you in your absence.
The more that you prepare for the potential need for elder care, the more you're going to make the process for the rest of your family that much easier to deal with if the time ever came that it was necessary.
If you have a loved one who could benefit from the help of elder care in Houston, TX contact the caregivers at At Your Side Home Care. We help seniors and their families with many levels of home care service. Call (832) 271-1600 for more information.
For most of us, the word "home" evokes warm feelings of comfort, security and well-being. For older adults, home also means holding tight to cherished memories and maintaining self-esteem and independence. When illness, injury or age make life a little more challenging, remaining at home in a comfortable, familiar environment encourages recovery and enhances the quality of life. Home can be defined as a private residence, an independent or assisted living facility or even a short term stay in the hospital, we recognize the additional benefits provided by a personal, professional assistant.

Our Certified Nurse Aides, 24-Hour Live-in Assistants and Home Health Aides are available 24 hours a day, 365 days a year. We also provide the security and confidence of 24-hour Telephone Assistance, so fast, reliable help is always available when it's needed. To learn more about our homecare services see our homecare services page.

Different people need different levels of homecare. To meet the requirements of our clients, At Your Side Homecare maintains consistent staffing levels of caring professionals. Homecare service is available for as little as a few hours a week, or as many as 24 hours a day, seven days a week
Latest posts by Donna Wrabel, LMSW (see all)