End of Life Elderly Care for Someone with Parkinson's in River Oaks, TX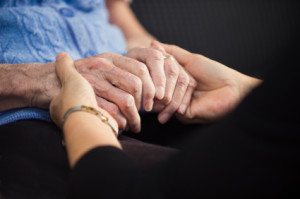 Caring for an individual with Parkinson's generally poses a number of unique challenges that other patients don't experience. When it's elderly care for the Parkinson's patient that is at question, when they are facing the end of their life (such as the doctor has diagnosed them and determined that they only have so much time left and there are no other treatment options), is it going to be any different than it is for those facing the end of life who don't have this disease?
The answer is that it could be different, depending on the individual patient, the severity of their disease, and what is the root cause of their terminal condition.
First and foremost, any elder care provider with experience will tell you that end of life care can be delicate and it must, at all times, be respectful. This level of care can certainly be emotionally challenging, not just for the patient and his or her family, but for the elder care provider as well. As a result, it's a good idea to have a backup team of caregivers to assist with the care.
Burnout is a real thing when it comes to caring for a terminally ill individual. Not only will the caregiver be working to make life as comfortable as possible, he or she will be surrogate counselor as well, being asked (sometimes) very personal questions, being told some intimate details in confidence, and other challenges.
Find out what facilities are capable of handling a Parkinson's patient. If the elderly patient does not have the resources available for hospice style care at home, you'll want to find out what facilities in the area are equipped to take in a patient with Parkinson's who has reached the end of his or her life. Not all nursing homes or other facilities will have the personnel on hand to deal with this level of care. It may become necessary to move the patient to a facility if their immediate needs can no longer be met within the comfort of their home.
Understand the medications they are prescribed. While some of the medications will likely be for treating Parkinson's symptoms, others will be for a variety of health issues. Some could be pain medications to help the patient be more comfortable. When you know the potential side effects or complications regarding the medications, as their elderly care professional, you can help to ensure that the patient is as comfortable as possible in their final days.
If you have a loved one who could benefit from the help of elderly care in River Oaks, TX contact the caregivers at At Your Side Home Care. We help seniors and their families with many levels of home care service. Call (832) 271-1600 for more information.
For most of us, the word "home" evokes warm feelings of comfort, security and well-being. For older adults, home also means holding tight to cherished memories and maintaining self-esteem and independence. When illness, injury or age make life a little more challenging, remaining at home in a comfortable, familiar environment encourages recovery and enhances the quality of life. Home can be defined as a private residence, an independent or assisted living facility or even a short term stay in the hospital, we recognize the additional benefits provided by a personal, professional assistant.

Our Certified Nurse Aides, 24-Hour Live-in Assistants and Home Health Aides are available 24 hours a day, 365 days a year. We also provide the security and confidence of 24-hour Telephone Assistance, so fast, reliable help is always available when it's needed. To learn more about our homecare services see our homecare services page.

Different people need different levels of homecare. To meet the requirements of our clients, At Your Side Homecare maintains consistent staffing levels of caring professionals. Homecare service is available for as little as a few hours a week, or as many as 24 hours a day, seven days a week
Latest posts by Donna Wrabel, LMSW (see all)