Encouraging Your Parents to be an Active Part of their Elderly Care
Elderly Care in River Oaks, TX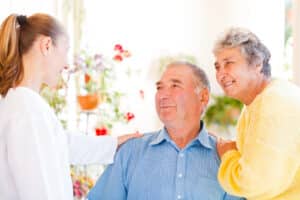 The decision to become a family caregiver for your aging parents is not one to be taken lightly. When you make the decision to step into the role of a caregiver it is important to remember that the goal of your elderly care is not to take over your parents' lives completely, but to offer support and assistance so they can enjoy the highest quality of life possible. This means encouraging them to be an active part of their elderly care plan.
Making all of the decisions for your aging parents' care may seem like the easiest way for you to formulate and carry out their care plan, particularly if you have a busy schedule that involves a variety of other responsibilities such as managing a career and raising children. Taking complete control, however, can have negative consequences for your elderly loved ones' mental, emotional, and even physical health. By making them a cooperative part of their care, you can instill a sense of accomplishment, confidence, and autonomy, and ward off loss of motivation and depression.
The ways your elderly parents can participate in their own care depends largely on their physical and cognitive abilities, and the amount of care they need on a daily basis. Experiment with different approaches until you find the ideal balance for everyone involved. Some of the ways you can encourage your parents to make meaningful contributions to their care include:
• Nurture communication. When it comes to giving your aging loved ones the elderly care they need and deserve, communication is essential. They cannot expect you to address their needs and find resolutions to their problems if they do not express these to you. Let your parents know that you want them to talk to you about their care and communicate any concerns so you can alleviate them
• Foster independence. It may seem faster and more efficient to do things for your parents rather than letting them do them for themselves, but over time this can greatly diminish their quality of life. By fostering greater independence through cooperative caregiving you support better mental and emotional health, which contributes to better physical health. Interactive care involves letting your parents handle as many tasks on their own as they can do safely and effectively, and help them handle others that may require some extra assistance
• Ask for their help. A sense of importance and purpose are important for everyone, but many seniors lose this sense of value when they enter a care relationship with a family caregiver. Increase your parents' sense of worth and contribution by asking them for help. Whether it is putting groceries away or watching a young child for a few minutes while you do something else, even small acts add up to meaningful emotional benefits
• Choose care providers together. You want your aging parents' elder home care provider to be someone you trust and get along with, but even more important is that your parents get along with her. Your senior loved ones are much more likely to cooperate with a care provider they like and trust, meaning they will get more benefit from the care. Let your parents be a part of the hiring process and ask them for their feedback about their care provider so they feel heard and understood in regards to their personal care preferences and goals.
Get in touch At Your Side Home Care to find out more about encouraging your parents to be active participants in their care and ask about hiring elder home care providers who can work with you to create the ideal balanced care team for your seniors.
If you have a loved one who could benefit from the help of elderly care in River Oaks, TX contact At Your Side Home Care. We help seniors and their families with many levels of home care service. Call (832) 271-1600 for more information.
For most of us, the word "home" evokes warm feelings of comfort, security and well-being. For older adults, home also means holding tight to cherished memories and maintaining self-esteem and independence. When illness, injury or age make life a little more challenging, remaining at home in a comfortable, familiar environment encourages recovery and enhances the quality of life. Home can be defined as a private residence, an independent or assisted living facility or even a short term stay in the hospital, we recognize the additional benefits provided by a personal, professional assistant.

Our Certified Nurse Aides, 24-Hour Live-in Assistants and Home Health Aides are available 24 hours a day, 365 days a year. We also provide the security and confidence of 24-hour Telephone Assistance, so fast, reliable help is always available when it's needed. To learn more about our homecare services see our homecare services page.

Different people need different levels of homecare. To meet the requirements of our clients, At Your Side Homecare maintains consistent staffing levels of caring professionals. Homecare service is available for as little as a few hours a week, or as many as 24 hours a day, seven days a week
Latest posts by Donna Wrabel, LMSW (see all)