Tips for Guiding Your Parent Through Grief during National Mend a Broken Heart Month
Elderly Care in Spring Branch TX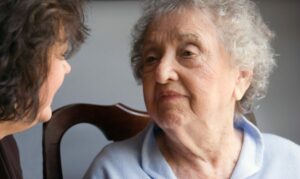 February is National Mend a Broken Heart Month. As a family caregiver this is the ideal opportunity for you to educate yourself on the ways that grief impacts elderly adults and how you can help your senior to approach, cope with, and move beyond their grief in a healthy, meaningful, and constructive way. While you often think of being a family caregiver as a way to approach and handle the physical needs and demands of your parent, it is important to remember that elderly adults cope with mental and emotional health complications as well, and that grief can have an extensive negative impact on their quality of life if not managed effectively.
Use these tips to help guide your aging loved one through grief during National Mend a Broken Heart Month:
• Acknowledge it openly and honestly. Do not try to "sugarcoat" or "dance around" the source of the grief. This will only make your parent feel more uncomfortable and like they are not receiving the support and encouragement that they need to get through this situation. Be open, honest, and clear when discussing the grief. Avoid using euphemisms. If your parent is grieving due to a death, be sure to use the name of the person rather than trying to avoid it.
• Talk about your own feelings. Do not leave your parent feeling like they are alone in their grief. Talk about your own feelings and how this loss has impacted your life. This will help them to feel more comfortable in their grief and be more willing to talk about what they are dealing with so that you can work through it together. This also helps you to handle your grief better so that you can be the best caregiver possible for your elderly loved one.
• Take care of yourselves physically. Grief is not just an emotional experience. This process can be extremely challenging physically as well. These effects can only work to exacerbate the emotional effects, creating a damaging cycle. Put effort into taking care of yourselves physically, including eating a healthy diet, getting enough sleep, and staying active. These will help to support your immune systems so that you can avoid infection and illness that can threaten your overall health and well-being.
Struggling with grief can be one of the most difficult things that anyone deals with in their life. If your aging parent has faced a situation that has caused grief or you are concerned about their mental and emotional well-being for other reasons, now may be the ideal time for you to consider starting senior care for them. A senior home care services provider can give your aging parent a highly personalized approach to care and assistance that includes emotional support and encouragement tailored to helping them cope with challenging situations and move forward in a healthier, more fulfilling lifestyle. Even as your parent moves through their grief, this care provider can help your senior to maintain a more active, engaged, and meaningful quality of life.
If you or an aging loved one are considering elderly care in Spring Branch, TX, please call the caring staff at At Your Side Home Care. We will answer all of your senior care questions. Call today: (832) 271-1600.
For most of us, the word "home" evokes warm feelings of comfort, security and well-being. For older adults, home also means holding tight to cherished memories and maintaining self-esteem and independence. When illness, injury or age make life a little more challenging, remaining at home in a comfortable, familiar environment encourages recovery and enhances the quality of life. Home can be defined as a private residence, an independent or assisted living facility or even a short term stay in the hospital, we recognize the additional benefits provided by a personal, professional assistant.

Our Certified Nurse Aides, 24-Hour Live-in Assistants and Home Health Aides are available 24 hours a day, 365 days a year. We also provide the security and confidence of 24-hour Telephone Assistance, so fast, reliable help is always available when it's needed. To learn more about our homecare services see our homecare services page.

Different people need different levels of homecare. To meet the requirements of our clients, At Your Side Homecare maintains consistent staffing levels of caring professionals. Homecare service is available for as little as a few hours a week, or as many as 24 hours a day, seven days a week
Latest posts by Donna Wrabel, LMSW (see all)