Why Your Elderly Loved One Should Have a Pet
Elderly Care in Houston TX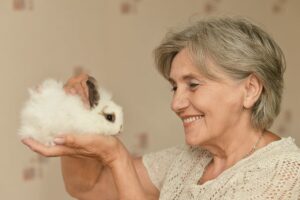 Pets bring so much job to many people, often causing their owners to think of them as family members instead of animals. This is especially true for seniors who are receiving in-home care and may be feeling isolated. Besides being fuzzy companions that refuse to leave their owner's sides, there are numerous health benefits to owning one. Here are just a few of the reasons you should get one for your elderly loved one soon.
Benefits of Owning a Pet for Senior Citizens
Less visits to the doctor. Pets have a calming affect that helps to lower the blood pressure and pulse rate of it's owner. In fact, there are 21 percent fewer doctor visits among those who are pet owners versus non-pet owners. Pets also give older adults motivation to stay active by walking their cat or dog, as well as playing fetch.
More social opportunities. For many adults and children, it is very difficult to walk by a dog without wanting to stay and pet them, making this the perfect socializing opportunity. Simply taking your pet for a walk will allow you to meet and chat with other fellow pet lovers who you would have otherwise never gotten the chance to talk to. Some older adults who receive elder care may find it challenging to make new friends because of the long periods of time they spend along or with their family caregiver. However, once they have a dog by their side, it will be much easier to break the ice and strike up a conversation with others.
Pets give elders a purpose. Since the kids are grown and they most likely do not have a child living at home with them, caring for a pet will give them the purpose they need to feel useful. From taking their furry family member for walks to feeding them, pets need constant care, and in return, will provide their owners with unconditional love. Animals, especially dogs, will show their owners the appreciation they so desperately need to feel.
No more loneliness. Even with the constant care received from other family members or a professional in-home care provider, feelings of loneliness may occur for those that do not have a large number of friends or relatives they constantly talk to. Pets will remove these lonely and isolated feelings, resulting in a lower possibility of depression.
Feeling more secure. Without the mobility they had in their younger days, older adults may be feeling increased feelings of nervousness and fear when in their home alone. With a dog, these feelings are quickly diminished since the animal wants to take care of its owner and keep them safe. Just having the dog around will give seniors a heightened sense of safety and security.
With a pet comes a wide range of benefits, which has never been more evident than for senior citizens. If you are considering getting an animal companion for your aging loved one, these perks should make your decision much easier.
Source
The Pets for the Elderly Foundation. "Help Support Pets for the Elderly."
If you or an aging loved one are considering elderly care in Houston, TX, please call the caring staff at At Your Side Home Care. We will answer all of your senior care questions. Call today: (832) 271-1600.
For most of us, the word "home" evokes warm feelings of comfort, security and well-being. For older adults, home also means holding tight to cherished memories and maintaining self-esteem and independence. When illness, injury or age make life a little more challenging, remaining at home in a comfortable, familiar environment encourages recovery and enhances the quality of life. Home can be defined as a private residence, an independent or assisted living facility or even a short term stay in the hospital, we recognize the additional benefits provided by a personal, professional assistant.

Our Certified Nurse Aides, 24-Hour Live-in Assistants and Home Health Aides are available 24 hours a day, 365 days a year. We also provide the security and confidence of 24-hour Telephone Assistance, so fast, reliable help is always available when it's needed. To learn more about our homecare services see our homecare services page.

Different people need different levels of homecare. To meet the requirements of our clients, At Your Side Homecare maintains consistent staffing levels of caring professionals. Homecare service is available for as little as a few hours a week, or as many as 24 hours a day, seven days a week
Latest posts by Donna Wrabel, LMSW (see all)