Elderly Care in Houston, TX: Activities for Seniors with Vision Decline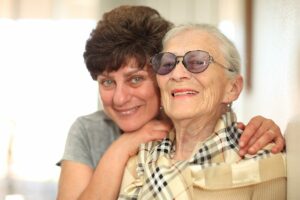 The senior who is experiencing vision decline can feel lonely and isolated. They may think there's nothing fun they can do any more. This is the time when you need to be prepared with lots of ideas of activities to cheer them up.
It's true your elderly parent will need more help because of vision decline, especially in the event of almost entire vision loss. Have you thought of hiring an elder care provider to help your parent on a daily basis? Not only providing companionship, elder care providers also help with so many daily tasks!
Elder care services can provide help with:
Organizing fun activities like card or board games, trips out, get-togethers with family members
Bathing, showering, dressing, toileting and any other personal care
Transportation to appointments, social activities, exercise classes, grocery shopping etc.
Light housekeeping such as doing the dishes
Someone to talk to and to listen to them; a trusted friend
Reminders to take their daily medications
Adapting a game or puzzles for seniors with low vision can be done by making the markings darker, buying or making playing pieces larger.
Some of your elderly senior's favorite games can be adapted for them so they can still play! For example, did you know you can purchase decks of playing cards for people with impaired vision? The numbers on the cards are 1-1/2 inches tall, in bold and much easier to recognize. Games like chess can be played in big pieces; they are easier to see and they can be picked up and identified by feel as well. Use boards with a stark contrast in color so your senior can tell which square the piece is on.
Puzzles can be purchased in large pieces with vibrant colors and obvious contrasts in colors to help with the sight impaired. Large print bingo cards are also available; as are large Sudoku puzzles and large word search pages. You can look in game stores that cater to the visually impaired or online.
Even internet games come in options for those with low vision. Many of these are available in free versions. Arts, favorite hobbies and various crafts can be modified for those with low vision. Working with polymer clay or painting with large brushes are two ideas you can try. For senior ladies who always loved needlework, larger yarn and larger size knitting needles may do the trick. Hey, even senior gents can have fun knitting.
Plant an indoor garden in a large potting bowl to put on the kitchen table. Your loved one can help tend and enjoy the garden. If you plant salad seeds, picking and eating the garden can be a lot of fun too.
If you have a loved one who could benefit from the help of elderly care in Houston, TX contact the caregivers at At Your Side Home Care. We help seniors and their families with many levels of home care service. Call (832) 271-1600 for more information.
For most of us, the word "home" evokes warm feelings of comfort, security and well-being. For older adults, home also means holding tight to cherished memories and maintaining self-esteem and independence. When illness, injury or age make life a little more challenging, remaining at home in a comfortable, familiar environment encourages recovery and enhances the quality of life. Home can be defined as a private residence, an independent or assisted living facility or even a short term stay in the hospital, we recognize the additional benefits provided by a personal, professional assistant.

Our Certified Nurse Aides, 24-Hour Live-in Assistants and Home Health Aides are available 24 hours a day, 365 days a year. We also provide the security and confidence of 24-hour Telephone Assistance, so fast, reliable help is always available when it's needed. To learn more about our homecare services see our homecare services page.

Different people need different levels of homecare. To meet the requirements of our clients, At Your Side Homecare maintains consistent staffing levels of caring professionals. Homecare service is available for as little as a few hours a week, or as many as 24 hours a day, seven days a week
Latest posts by Donna Wrabel, LMSW (see all)