Elderly Care in Houston, TX: Free Online Brain Games
Research studies have concluded that there are some activities that keep a person's brain young and vital for a longer period of time. One of these activities is learning a new language. Studying, learning and speaking a new language really gets the brain neurons all fired up and gives a person a real good mental workout.
Another thing that's good for brain health is learning to play a musical instrument. Even a simple harmonica can give a person great brain health benefits. What other games are good for exercising the brain?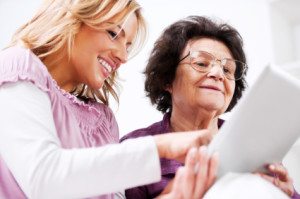 There are numerous free brain games and memory games online for seniors and whoever else wants to play them. They challenge the memory, attention and language centers of the brain. When you are providing home care for elderly persons, you might want to have some fun and beneficial games you can pull out at a moment's notice to give your loved one a fun and beneficial game or activity.
Here are some examples of easy memory games for seniors that were found online:
1)     The matching cards game. This can be played with a deck of face cards. Just use hearts and spades from Ace to ten. Shuffle and turn them all over and play it as if it were the memory match game. With one player only, try to clear the table in as few turns as possible.
2)     Choose one item to remember all day long. For example, choose to remember that 6 plus 6 is 12. Then all day long, remind yourself of what it is that you are trying to remember. The next day ask yourself what the item was you were trying to remember. Start again that day with another item to remember for the next day.
3)     Word association game. Needs 2-6 players. Choose a category such as food. The first person names a food that starts with the letter A. The next person names a food that starts with the last letter of the previous word. For example, the first person says apricot. The second person says taco. The third person says orange. The play continues until someone can't name a food that starts with the appropriate letter.
Memory loss is not a guaranteed result of aging. In fact, there are many seniors who have figured out how to get smarter and actually have better memories as they continue to age. The mind and memory should be challenged every single day.
The more the mind is kept active, the greater potential that mental prowess with grow stronger with age rather than weaker.
If you have a loved one who could benefit from the help of elderly care services in Houston, TX contact the caregivers at At Your Side Home Care. We help seniors and their families with many levels of home care service. Call (832) 271-1600 for more information.
For most of us, the word "home" evokes warm feelings of comfort, security and well-being. For older adults, home also means holding tight to cherished memories and maintaining self-esteem and independence. When illness, injury or age make life a little more challenging, remaining at home in a comfortable, familiar environment encourages recovery and enhances the quality of life. Home can be defined as a private residence, an independent or assisted living facility or even a short term stay in the hospital, we recognize the additional benefits provided by a personal, professional assistant.

Our Certified Nurse Aides, 24-Hour Live-in Assistants and Home Health Aides are available 24 hours a day, 365 days a year. We also provide the security and confidence of 24-hour Telephone Assistance, so fast, reliable help is always available when it's needed. To learn more about our homecare services see our homecare services page.

Different people need different levels of homecare. To meet the requirements of our clients, At Your Side Homecare maintains consistent staffing levels of caring professionals. Homecare service is available for as little as a few hours a week, or as many as 24 hours a day, seven days a week
Latest posts by Donna Wrabel, LMSW (see all)