Elderly Care in Hillshire Village, TX: Tips for Caring for Elderly People
There's no need to be afraid of the elderly, yet some people are. They think all older people are senile, mean or sick. The reality is, everyone will eventually get old and age. With age, the body loses the youthful appearance and yes, some people will become sick or develop dementia. But since it's a natural thing for all humans to age, it makes sense that the younger generations take time to understand the older generation. After all, they will all be there some day!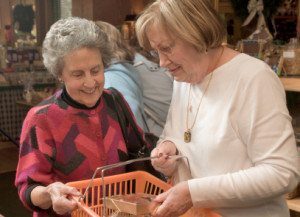 If you find yourself in the situation where your elderly parents need some help caring for themselves, the following tips will give you some information that may be helpful.
Give them the respect and compassion they deserve. In most cases they took care of you at a time when you needed them most and couldn't take care of yourself. Now the tables are turned and they need you.
They have experienced physical changes. Their vision, hearing and sense of touch have probably been affected by the aging process. They have also experienced physiological changes. Make things easier for them by speaking louder and more clearly if they need you to. Come closer to them and make eye contact when speaking.
They may be more sensitive to pain and touch than they used to, so treat them very gently. Conversely, they may be less sensitive to pain which is a warning that something's wrong. This becomes a problem because they may get burned easier when the pain signal is delayed.
They may begin to lose some control of bodily functions. This isn't their fault and can be really frustrating to them so remember to be very sensitive. If they experience a problem, help them to keep it very discreet so it doesn't humiliate them in public.
Their memory may not be as it used to.
Their flexibility will be less than in younger years and their skin will be dryer and more brittle. Keep them warm because cold air can be damaging to their muscles.
Their immune system will likely be weaker than in younger years and their metabolism will have slowed down.
They may be more prone to disease and catching viruses or bacteria they are exposed to. Keep their living area clean and clear of dust and clutter.
They may need extra vitamins and minerals in the form of supplements if they are not able to eat adequate amounts of healthy foods each day.
An elder care provider can help because they are trained professionals who know just how to give caring and compassionate elder care to your aging loved one.
If you have a loved one who could benefit from the help of elderly care services in Hillshire Village, TX contact the caregivers at At Your Side Home Care. We help seniors and their families with many levels of home care service. Call (832) 271-1600 for more information.
For most of us, the word "home" evokes warm feelings of comfort, security and well-being. For older adults, home also means holding tight to cherished memories and maintaining self-esteem and independence. When illness, injury or age make life a little more challenging, remaining at home in a comfortable, familiar environment encourages recovery and enhances the quality of life. Home can be defined as a private residence, an independent or assisted living facility or even a short term stay in the hospital, we recognize the additional benefits provided by a personal, professional assistant.

Our Certified Nurse Aides, 24-Hour Live-in Assistants and Home Health Aides are available 24 hours a day, 365 days a year. We also provide the security and confidence of 24-hour Telephone Assistance, so fast, reliable help is always available when it's needed. To learn more about our homecare services see our homecare services page.

Different people need different levels of homecare. To meet the requirements of our clients, At Your Side Homecare maintains consistent staffing levels of caring professionals. Homecare service is available for as little as a few hours a week, or as many as 24 hours a day, seven days a week
Latest posts by Donna Wrabel, LMSW (see all)