Elderly Care in Garden Oaks, TX – Music-Centered Activities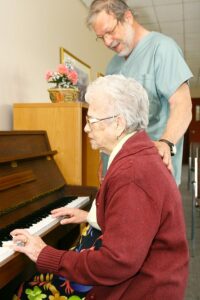 Some music games are great fun to play when you have a few seniors gathered together. One of them is name that tune. Choose some popular music from bygone eras and play a little bit of each song. The first one to name the tune wins. You can also split into teams, making sure musicians are spread evenly between the teams.
Game ideas involving music
Another variation of the above game is to have some musical instruments of all sorts and have the team members attempt to play a line or two of a song and the other team has to guess the song.
Music is enjoyed by people of all ages. For the elderly they especially enjoy classics from bygone eras. Music has a very beneficial therapy aspect to it and it can liven up the mood and help bring old memories back to the forefront.
Sing-alongs are also great fun. You could use a karaoke machine or simply play the music to popular songs from their generation and hand out the printed words so they can follow along.
Music lessons are a great option too
Don't discount music lessons for the elderly. A person can learn to play some notes and simple tunes at any age. In fact research has verified that learning to play a new instrument helps keep the brain exercised and in good shape for a longer time. There are many inexpensive instruments you can buy or make that don't take years to learn how to play. Hanging pipes, bells, harmonica, recorder, simple flutes, pan pipes, xylophone, and many more are good options.
Listening to classical and diverse music
Listening to classical music while they quietly visit or during meal time or while doing a craft is a nice way to add some more music. While you or your elderly loved one are relaxing or taking a rest, some soft classical music in the background is very relaxing and therapeutic.
For some interest, introduce your loved one to music from other cultures and other countries. Often it is made with different musical instruments, so there is a wide diversity of sounds to listen to.
Music benefits for those with Alzheimer's or dementia
Music therapy is especially beneficial to seniors with Alzheimer's disease or dementia. If you notice a song that agitates them, don't play it anymore. Otherwise, they will often recognize songs of their generation and you will see a happy face and they will even sway or move to the music. Just make sure the music isn't too loud and that it's not distracting them from something they need to be doing, like eating.
An elderly care provider can give your elderly loved one the help they need with everyday tasks. Cooking nutritious meals and finding meaningful activities for your loved one are included.
If you have a loved one who could benefit from the help of elderly care in Garden Oaks, TX contact the caregivers at At Your Side Home Care. We help seniors and their families with many levels of home care service. Call (832) 271-1600 for more information.
For most of us, the word "home" evokes warm feelings of comfort, security and well-being. For older adults, home also means holding tight to cherished memories and maintaining self-esteem and independence. When illness, injury or age make life a little more challenging, remaining at home in a comfortable, familiar environment encourages recovery and enhances the quality of life. Home can be defined as a private residence, an independent or assisted living facility or even a short term stay in the hospital, we recognize the additional benefits provided by a personal, professional assistant.

Our Certified Nurse Aides, 24-Hour Live-in Assistants and Home Health Aides are available 24 hours a day, 365 days a year. We also provide the security and confidence of 24-hour Telephone Assistance, so fast, reliable help is always available when it's needed. To learn more about our homecare services see our homecare services page.

Different people need different levels of homecare. To meet the requirements of our clients, At Your Side Homecare maintains consistent staffing levels of caring professionals. Homecare service is available for as little as a few hours a week, or as many as 24 hours a day, seven days a week
Latest posts by Donna Wrabel, LMSW (see all)