Elderly Care Tips: Reducing Fall Risk with Walking
Elderly Care in Garden Oaks TX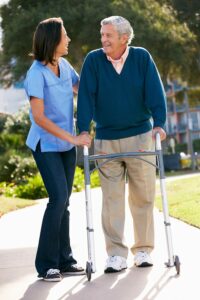 Whether you have been caring for your aging parents for many years or are just getting started on your elderly care journey with your seniors, you are aware of the dangers of falls for aging adults and the importance of reducing that fall risk. There are many ways that you can help your parents reduce the risk of suffering a fall and the serious injuries that can result, but one of the simplest and most accessible is simply walking.
Studies have shown that more than half of all aging adults do not get enough physical activity to stay healthy, and at least 25 percent live lives that could be described as sedentary. In fact, by the age of 75, 30 percent of men and 50 percent of women have become completely sedentary, meaning that they only times that they move is when they are doing basic life activities such as getting in and out of bed, going to the bathroom, or going into the kitchen to prepare meals. This can be especially troublesome for those seniors who receive care from a family caregiver and an elderly health care services provider because having this care and support means that someone is there to handle tasks such as getting them water, doing their laundry, or taking out their trash that might add some activity to their daily routine.
Living a sedentary lifestyle is extremely hard on the body for many reasons, including contributing to weight gain that can make movement even more difficult and put strain on the body, wasting away of the muscles and other tissues causing loss of strength, flexibility, and range of motion, and diminishing balance. While it can be difficult to change the ways of aging adults who have slipped into a largely sedentary lifestyle, just getting your parents walking can make a tremendous difference in their health, wellbeing, and ability to avoid falls.
Walking on a regular basis with you or their home care provider, even if it is just a small amount to begin with and then working your way up to taking longer, brisker walks, can help your parents experience a variety of health improvements that help to reduce their fall risk, including:
• Strengthening of the ankle muscles and joints to provide greater stability
• Strengthening of the leg, abdominal, and back muscles that contribute to greater stability and balance, as well as greater ability to recover if they begin to fall
• Strengthening of the hip muscles that produces greater stability and balance when walking and changing positions
• Better flexibility that helps to keep the body upright even if they begin to fall
• Strengthening their bones for reduced chance of fractures and greater stability
While getting your parents on a treadmill can be a highly effective way to get them moving, getting them outside for walks can offer different benefits. Walking outside not only gives them fresh air and gives them more chance of social interaction, but it also has natural elevations that change up the demands on their body for further benefits.
Source
https://www.nlm.nih.gov/medlineplus/ency/patientinstructions/000493.htm
http://www.cdc.gov/Features/OlderAmericans/
If you or an aging loved one are considering elderly care in Garden Oaks, TX, please call the caring staff at At Your Side Home Care. We will answer all of your senior care questions. Call today: (832) 271-1600.
For most of us, the word "home" evokes warm feelings of comfort, security and well-being. For older adults, home also means holding tight to cherished memories and maintaining self-esteem and independence. When illness, injury or age make life a little more challenging, remaining at home in a comfortable, familiar environment encourages recovery and enhances the quality of life. Home can be defined as a private residence, an independent or assisted living facility or even a short term stay in the hospital, we recognize the additional benefits provided by a personal, professional assistant.

Our Certified Nurse Aides, 24-Hour Live-in Assistants and Home Health Aides are available 24 hours a day, 365 days a year. We also provide the security and confidence of 24-hour Telephone Assistance, so fast, reliable help is always available when it's needed. To learn more about our homecare services see our homecare services page.

Different people need different levels of homecare. To meet the requirements of our clients, At Your Side Homecare maintains consistent staffing levels of caring professionals. Homecare service is available for as little as a few hours a week, or as many as 24 hours a day, seven days a week
Latest posts by Donna Wrabel, LMSW (see all)