Fun Places To Go For a Walk With Your Senior Loved One
Elderly Care in Cinco Ranch TX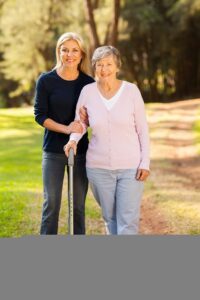 For seniors, walking is an excellent form of physical exercise. It requires no equipment or expensive gym memberships, it doesn't require any special talents or skills, and it is low-impact making it easy on joints. All your loved one needs to begin a great walking routine is a comfortable and supportive pair of shoes and some comfortable clothing to walk in. As the hot summer weather comes to an end, you may find that the weather is very favorable for walking outdoors. Your loved one no longer has to worry about dangerous heat indexes which can raise their risk for heat-related illnesses and dehydration when walking outside. In fact, the fall can be a great time to walk outdoors because of the mild weather and the beautiful sights to see. While walking around the block and through the neighborhood is always a great choice, there are many other places that you can walk with your senior loved one that can add variety and fun to their exercise routine. If you and your loved one are looking for a new place to walk, read on for some great ideas.
Nature Trail
If you live near a park with nature trails, these can be great places to go for a walk. You and your loved one can be on the lookout for wildlife as you walk and you may find it relaxing and peaceful to walk in a more natural setting. Often, nature trails that go through the woods are well-shaded so you and your loved one are likely to stay cooler. Nature trails are a great place to learn more about the wildlife and plants that live near you and they are a great place for your and your loved one to get good exercise.
Board Walk or Pier
If you and your loved one live near the water, board walks and piers are wonderful and scenic places to go for a walk. It is calming for people of all ages to spend time near the water and you may even find that you see some people you and your loved one know there, too.
Mall
On rainy days or on days when the weather is not ideal for walking, walking in the mall can be a great alternative to outdoor walking. Malls usually cover a lot of space and they have places where your loved one can rest, if needed.
If you or an aging loved one are considering elderly care in Cinco Ranch, TX, please call the caring staff at At Your Side Home Care. We will answer all of your senior care questions. Call today: (832) 271-1600.
For most of us, the word "home" evokes warm feelings of comfort, security and well-being. For older adults, home also means holding tight to cherished memories and maintaining self-esteem and independence. When illness, injury or age make life a little more challenging, remaining at home in a comfortable, familiar environment encourages recovery and enhances the quality of life. Home can be defined as a private residence, an independent or assisted living facility or even a short term stay in the hospital, we recognize the additional benefits provided by a personal, professional assistant.

Our Certified Nurse Aides, 24-Hour Live-in Assistants and Home Health Aides are available 24 hours a day, 365 days a year. We also provide the security and confidence of 24-hour Telephone Assistance, so fast, reliable help is always available when it's needed. To learn more about our homecare services see our homecare services page.

Different people need different levels of homecare. To meet the requirements of our clients, At Your Side Homecare maintains consistent staffing levels of caring professionals. Homecare service is available for as little as a few hours a week, or as many as 24 hours a day, seven days a week
Latest posts by Donna Wrabel, LMSW (see all)