Elderly Care and Boredom in Spring Valley, TX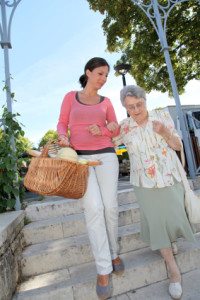 Being bored is something that can affect a lot of people. It doesn't matter whether you're talking about a ten year old or someone who is in their eighties. When you don't feel that you have anything fun or exciting to do, you're more likely to feel as though you're bored. For seniors who rely on the assistance of others throughout the day, elderly care can not only be helpful, but it can help to alleviate the boredom that the individual feels.
How can elderly care alleviate boredom?
One reason that people get bored is that they don't seem to know what to do. Even if there is something that they think they might enjoy, they may not be sure that they could do it.
When you have an experienced elder care provider working with the senior, they would be able to tap into available resources and help them find a way to take advantage of the opportunities around them.
Some elder care providers are able to drive their patients from the store, doctor's appointments, and other locations, which would allow them the opportunity to take part in certain activities. This could include going to the local senior center, church functions, and more.
One of the reasons why some seniors feel bored, or that they can't go to certain places, is because they can no longer drive or their physical strength of health doesn't permit them to get to these places on their own.
Having an elder care provider there with the senior allows them an opportunity to go out and do some things that they used to enjoy, or to try some new, fun activities.
Finally, whenever you have someone else with you, in your life, even if it's just someone to talk to for an hour or two during the day, it can make a world of difference.
There are many ways in which elderly care can help your loved one with boredom. While there are certainly limitations to what they can do, when you have someone coming to your home and supporting you, offering a ride or two, or opening up opportunities to take part in various activities, it can be a powerful thing.
Boredom is dependent on a person's mindset and demeanor. If you feel that your elderly loved one is bored, consider talking to him or her about elderly care. It could make all the difference in the world to them.
If you have a loved one who could benefit from the help of elderly care in Spring Valley, TX contact the caregivers at At Your Side Home Care. We help seniors and their families with many levels of home care service. Call (832) 271-1600 for more information.
For most of us, the word "home" evokes warm feelings of comfort, security and well-being. For older adults, home also means holding tight to cherished memories and maintaining self-esteem and independence. When illness, injury or age make life a little more challenging, remaining at home in a comfortable, familiar environment encourages recovery and enhances the quality of life. Home can be defined as a private residence, an independent or assisted living facility or even a short term stay in the hospital, we recognize the additional benefits provided by a personal, professional assistant.

Our Certified Nurse Aides, 24-Hour Live-in Assistants and Home Health Aides are available 24 hours a day, 365 days a year. We also provide the security and confidence of 24-hour Telephone Assistance, so fast, reliable help is always available when it's needed. To learn more about our homecare services see our homecare services page.

Different people need different levels of homecare. To meet the requirements of our clients, At Your Side Homecare maintains consistent staffing levels of caring professionals. Homecare service is available for as little as a few hours a week, or as many as 24 hours a day, seven days a week
Latest posts by Donna Wrabel, LMSW (see all)